The City of Gentle People
Dumaguete or "The City of Gentle People" is the main seaport and capital of Negros Oriental, a province located at the southwestern part of the Visayas Group of Islands in the Philippines.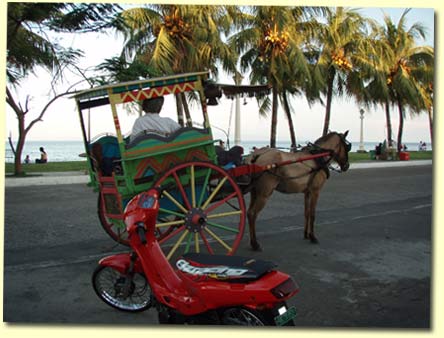 This coastal city is also known as the University Town or The Center of Learning in the South because of the presence of the world-famed Silliman University (established in 1901) and three other popular universities (St.Paul's University-Dumaguete (1904), Foundation University and Negros Oriental State University (NORSU)), not withstanding 3 other colleges, 12 elementary schools and 9 high schools. It is therefore a Mecca for students from all places and for all levels.
New Silliman University Website?
There is a debate on what Silliman University's website should look like, cast your vote here.
Dumaguete city is not only known as an educational destination for local and foreign students, it is also known to tourists, particularly to the Japanese and Europeans, for its friendly city atmosphere towering aged old trees and lush edges as its main city frame, while in its perimeters are scenic white sand beaches, exotic dive spots, aqua adventuring spots perfect for watching dolphins and whales, restaurants with live bands, disco houses for clubbing and night life, and beautiful limestone caves and waterfalls for spelunkers.
Diving in Dumaguete
Just a few minutes boat ride from Dumaguete City are two of the most unique islands Filipinos do pride themselves about, Apo Island and Sumilon Island. Both are being hailed as being some of the best dive sites in the Philippines, having the most magnificent coral reef formations and marine wildlife, and are therefore pronounced as among the world's best dive sites. fabulous diving like Apo Island is 35-minutes away from the city shore while travel to Sumilon Island may take longer because it is technically outside the Negros province. Apo Island's dive sites and marine preserve is being managed and protected by Silliman University while NGOs and private resort owners take Sumilon Island's aserious investment, both places charges a fee for use of their dive sites.
Tourists and divers must never miss climbing the limestone cliffs of Apo Island where the vermillion horizon can be viewed at its picture-finest. Couples may also take their romantic refuge at any of the eight honeymoon cottages at the Apo Island Resort. Adventure-seekers should also take their chance to trek the limestone caves of the island.
If you visit Sumilon Island, you may opt to view the magnificent sunset via any of the cottages scattered along its cliffs. You may also opt to drop by Sumilon Bluewater Island Resort where you can bike, windsurf, scuba dive, snorkel or do some deep sea dives. You may also ride their boats or do some fish feeding. The resort also offers organized island tours.
Dolphin and whale watching can be done at Bais Bay. But if you just want to a have a happy nightlife, you can simply drop by the Boulevard in Dumaguete where restaurants offer affordable world-class and Filipino cuisine. There are also disco houses and restaurants with live bands in the area.
There are available package tours for one-day visits to Dumaguete City or you can book for a stay through local tourist agencies. You may also inquire through the Department of Tourism. From Manila, it takes little over an hour travel time by plane. There is also a twice a week sea voyage available direct from Manila to Dumaguete City which takes 36-hours travel time. There are also daily ferry routes going to Dumaguete if you are coming from Visayas or Mindanao.
If you prefer a hotel in the city proper, various places such as the Bethel Guest House offer good tourist accommodations. If you are on a tight-budget regarding hotels in Dumaguete and are lucky enough, as most tourists are, you might come across with a hospitable and gentle Dumagueteno who will be willing to help you find a comfortable place to stay.