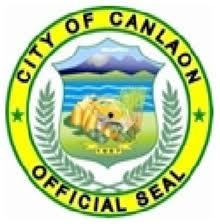 During the Second World War, the Japanese Imperial Army captured Canlaon City in April 1942, right after the Battle of Bataan. The Japanese occupation of the City ended in early 1945 when soldiers from the Eighth United States Army under Lieutenant General Robert Eichelberger including the 40th Infantry Division (United States) and the 23rd Infantry Division (United States), landed in Negros Island to drive out the Japanese. In liberating Negros Island, they were assisted by newly formed Philippine Commonwealth military forces & local Negrosanon guerillas who helped in clearing out Japanese pockets of resistance throughout the island. In fact, the honor of liberating Canlaon City from the Japanese went to Philippine Commonwealth soldiers belonging to the 7th, 71st, 73rd and 75th Infantry Regiments of the Philippine Army, the 7th Infantry Regiment of the Philippine Constabulary and Negrosanon Guerillas.
The Banyan Tree inside the OISCA Farm is estimated by botanists from Silliman University to be around 1,328 years old. It is home to lizards, bats, and many varieties of insects. It may be considered Canlaon City's main tourist attraction.
population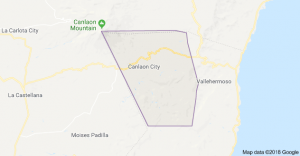 Canlaon, officially the City of Canlaon, (Cebuano: Dakbayan sa Canlaon; Hiligaynon: Dakbanwa/Syudad sang Canla-on; Filipino: Lungsod ng Canlaon), is a 4th class city in the province of Negros Oriental, Philippines. According to the 2015 census, it has a population of 54,509 people.
It is located 168 kilometres (104 mi) north from the provincial capital Dumaguete and is bordered on the east by Vallehermoso and on the south by Guihulngan.
Canlaon is home to the highest peak in its own province and its corresponding island, Kanlaon Volcano, which is 2,465 metres (8,087 ft) above sea level at its highest point.
Barangays
Bayog
Binalbagan
Bucalan (East Budlasan)
Linothangan
Lumapao
Malaiba
Masulog
Panubigan
Mabigo (Poblacion – Canlaon Proper)
Pula
Budlasan (West Budlasan)
Aquino
Is this your business?
Claiming your listing is the best way to manage and protect your business.
Claim it now!