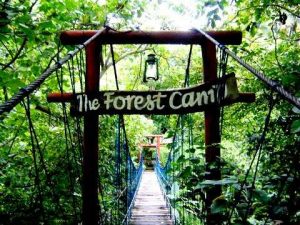 Traveling to Dumaguete City? Worry no more! Numbers of different attractions can be seen all over the city as well as in the province. Do you want a summer tropical experience? Here is the famous Forest Camp of Valencia! No, it is not in Bali. It is just in Valencia. It is less than 30 minute drive from the city proper of Dumaguete. It has 9 cold spring swimming pools designed to appear like natural lagoons formed by the river.
The resort is About 2.5 hectares of nature that includes its natural spring swimming pools, trees, birds that flying in and out of the resort as if you are in a real forest. Inside is a 90 meter zip line that crosses the river and over the swimming pool. There is also a hanging bridge that is made of wood materials. It has also a 30 feet climbing wall and a 25 by 25 meter skate bowl for modern exercise enthusiasts. Parents will no longer worry for their children's safety since there are swimming pools that are designed for children. There are also a lot of signage inside that will guide the customers.
To really appreciate the beauty of Forest Camp, it is best if you will spend the night there in cozy and modern native cottages that can be rented. It has rooms for families, big groups, and couples. Guests can also install tents and swings especially to those who are backpackers. What is good here is that it allows customers to drink alcohols and even smoking is allowed inside.
Your Forest Camp experience will not be complete if you will not try to dine and taste their delicious Filipino cuisines that can be served anywhere inside the resort. It is also a place which is perfect for camping, get together with family, friends and even for the couples.
So why spend so much money for those expensive beach resorts and too far places? Where there is Forest Camp that caters almost everything!
Is this your business?
Claiming your listing is the best way to manage and protect your business.
Claim it now!