At the foot of Mount Talinis is the town of Valencia in Negros Oriental, home to numerous waterfalls including Pulangbato Falls, otherwise known as Malabo Falls. With its proximity and accessibility from Dumaguete City, it is fast becoming a tourism hot spot.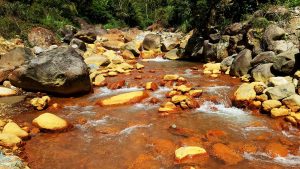 Pulangbato Falls is one of the so called Twin Falls of Barangay Malabo. As the name suggests, Twin Falls is made up of two cascades coming from two different sources. One is a clear and narrow drop while the other is the famed Pulangbato as the water cascades on a wall covered with sulfur deposits making it appear red (or orange) in color.
Pulangbato Fall has a height of approximately 30-feet with deep and sloping catch basin. Its water originates from the highland of Okoy River Valley at the base of Mount Talinis, a potentially active volcano. Despite the presence of sulfur, bathing in the waterfalls is permitted.
There are already developments in the area where Pulangbato Falls is located with the establishment of some structures to cater to tourists but the two waterfalls are generally untouched. Not far from Pulang Bato Falls is Red Rock Sulfur Hot Spring, a good place for a relaxing deep with its warm sulfur water believed to have some healing effects.
Also an attraction is the sulfur emitting mountainside just along the road going to Pulangbato Falls, one of the signs that Mount Talinis is a potentially active volcano. You won't miss it since the area is literally fuming and emitting a pungent odor.
How to Get to Pulangbato Falls
From Dumaguete City, catch a multicab to Valencia (P15/person, approximately 20 minutes) and charter a motorbike to Twin Falls / Pulangbato Falls (P300/motorbike/2 pax, approximately 20 minutes).
Entrance fee is P20/person, parking fee is P10.
(Visited 529 times, 4 visits today)
Is this your business?
Claiming your listing is the best way to manage and protect your business.
Claim it now!