Cebu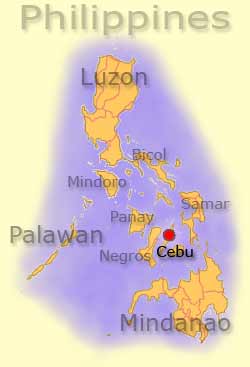 If the queen is the second most important piece on the chess board next to the king, then Cebu must be the second most important city in the Philippines next to Manila. But considering its many "firsts," it could very well have been the premier city of the country.
Appropriately dubbed as the "Queen City of the South," it lies on the eastern shore of the island of Cebu 600 kilometers south of Manila. It is bounded on the east by the Mactan Strait; on the west by Toledo City and the towns of Asturias and Balamban; on the northeast by Mandaue City and the town of Consolacion; and, on the south by Talisay City and the town of Minglanilla.
Centrally located in the Philippine archipelago, Cebu is a vital economic nerve center whose influence pulsates all throughout the rest of the southern regions in the Visayas and Mindanao. Outside of Manila, it provides the most important entry and exit point for international flights. And, because of its sheltered deep water harbor, it serves as an excellent base for more than eighty percent of the country's inter-island shipping firms and is the gateway to the central and southern Philippines. And if the Capital City of the Philippines is the first among 16 other cities in Luzon that comprise Metro Manila, the Queen City of the South is the center of Metro Cebu which is composed of the cities of Lapu-Lapu, Mandaue, Naga, Talisay and Cebu.
Like Manila, Cebu traces its beginnings to the dawn of civilization in the Philippines dating back to at least 1,000 BC. An interesting point in this regard is that the place name of Cebu has remained phonetically unchanged since pre-Hispanic times. It was known back then as "Zebu," which was most probably derived from the Malay word "sebu" which means "place of abundance." No other name could have given a more accurate description because it was already an economically developed and prosperous settlement that maintained trade ties with other civilizations in Asia and the Middle East long before the arrival of the first Spanish galleons. In the chronicles of Antonio Pigafetta, who landed with Ferdinand Magellan in Cebu on April 7, 1521, shipping vessels from China, Siam (Thailand) and Arabia were described to be docked at the Port of Cebu when they arrive in the area.
It was in Cebu that Magellan planted the Cross making it the first Christian settlement in the country. But it was also in Cebu that the early Filipinos put up their first heroic resistance to Spanish colonization. Led by Lapu-Lapu, the courageous chieftain of Mactan, the Filipino warriors repulsed the advance of the Spaniards and took the life of Magellan. But freedom for the Philippines would be short lived because after 44 years the foreign colonists, driven by their lust for gold and exotic spices of the East, would return with a vengeance. On April 27, 1565, Miguel Lopez de Legaspi landed in Cebu to reestablish an oppressive Spanish dominion over much of the country that would last for the next three hundred years.
Under Spanish rule, Cebu became the country's first city—ahead of Manila by seven years. As such, many of its attractions, structures and institutions would necessarily have the distinction of being the oldest in the country. The Basilica Minore del Santo Niño in downtown Cebu is the oldest church; Fort San Pedro, the oldest yet smallest fort; San Carlos University, the oldest school; and, Colon Street, the oldest avenue in the country.
Known for its excellently crafted guitars, banduria, piccolo and other stringed instruments, Cebu's economy is powered by the entrepreneurial spirit of its people whose small and medium enterprises pushed the city to the frontlines of progress. Although it is a thriving modern trade center and a busy metropolis, Cebu has not lost its natural attractions and has become one of the most popular tourist and business destinations in the country.
What to See in Cebu
This premier southern city is the birthplace of Christianity in the Philippines and may disputably be the first place in Asia ever to be touched by the Cross. A visit to the following sites would impart a better appreciation of how these religious relics have shaped the culture and destiny of the Philippines.
Magellan's Cross: Upon landing in Cebu in 1521, Magellan is said to have planted this cross on this very spot in downtown Cebu. This subsequently became the most famous place in the country as it was here where the first Christian Filipinos were baptized, which includes Rajah Humabon and his wife, Queen Juana. Now housed in a chapel, the cross was encased in 1835 in a hollow tindalo wood to keep devotees from chipping off pieces of the wood relic to take home as religious souvenirs.
Basilica Minore del Santo Niño: Located a few paces away from Magellan's Cross is this Augustinian church which is considered as the only Roman Catholic Basilica in the Far East. This church, which is constructed of hewn stone, serves as the sanctuary of the Santo Niño image that was given to Queen Juana in 1521 by Ferdinand Magellan. This religious site is open to the public on Fridays and Sundays.
Challenging jungle treks and sea dives: While Cebu might be a modern metropolis, it has retained much of its natural allure that continues to attract tourists from all over the world. It offers the nature lover an adventurous trek through the jungles and rivers on the outskirts of the city or a climb up the mountain trails and an exciting rappel down its deep gorges. The magnificent white sand beaches and crystalline waters in the islands of Badian, Mactan, Bantayan and Malapascua as well as the magnificent diving spots in Moalboal and Maribago off Cebu strongly beckon to the diving and snorkeling spirit of sea-loving visitors.
Where to Eat in Cebu
Cebu is as cosmopolitan as Manila. And when it comes to restaurants, it has a pretty wide range to choose from. It has Japanese, Chinese, Korean, Thai, Indian, Vietnamese, Italian, Spanish and American as well as the ubiquitous international and local fast food chain brands that dot the malls and commercial centers of major cities.
Golden Cowrie Restaurant Cebu: A must-eat place that will give you the best value for your money in terms of fast and courteous service, excellent food, affordable price and good ambiance. Why not set aside your diet for a while and savor its finger licking good crispy pata and dinuguan. Better yet, have a fill of its delicious version of "adobong kangkong" and "tahong," which are typically known nation-wide as the "poor man's diet," and understand why these are so popular among the Filipino masses.
Grand Majestic Restaurant: If you are ready to splurge to satisfy your taste buds, then go ahead and taste its famous "Peking Duck," dimsum and mouth-watering desserts. Otherwise, you would fly back home with that sneaky feeling that your trip to Cebu had been an incomplete experience.
Mr. A: Located on a hill in the mountain barangay of Busay, this restaurant offers a range of affordable Cebuano fiesta fare, a great ambiance and an even greater view of the city.
Where to Stay in Cebu
Waterfront Cebu City Hotel & Casino: Tourists and businessmen with a taste for elegance would find this first class hotel located a stone's throw away from the city's financial district and best tourist attractions appealing to their most discriminating needs. With rates starting at USD100.00, or P4,100.00 converted at current forex rates, guests at this famous landmark would be able to enjoy air conditioning; cable TV; NDD/IDD telephone; wi-fi Internet connectivity; mini-bar and ref; and, complimentary round trip shuttle from the hotel to the malls.
Website: http://www.waterfronthotels.com.ph/sebu/
Salinas Drive
Lahug, Cebu City
Tel. No.: (+6332) 232-6888
Fax No. : (+6332) 232-6880
Email : wcch@waterfronthotels.net
Cebu Grand Hotel: Affordable hotels are normally hard to come by in a cosmopolitan metropolis that is a choice tourist destination like Cebu. That is why a standard class hotel like Cebu Grand Hotel that is centrally located to the city's commercial districts, finest tourist spots and recreational facilities would normally always be fully booked by businessmen and tourists with a discriminating taste. With rates starting at P2,700.00, guests would enjoy air conditioning; NDD/ IDD telephone; cable TV; private bath room and bath; and, hot and cold shower.
Website: http://www.cebugrandhotel.com/
Cebu Capitol Complex,
North Escario Street
Cebu City
Tel Nos.: (+6332) 254-6362
(+6362) 254-6361
Fax No. : (+6362) 254-6363
Email : info@cebugrandhotel.com
Richmond Plaza Hotel Cebu: Strategically located near the Ayala Business Park and uptown Cebu, this economy class hotel is perfect for budget leisure travelers. With rates starting at P950.00, the intrepid traveler will get to enjoy air conditioning; pipe-in music; cable TV; dinette; mini-bar; private toilet and bath; and, hot and cold shower.
Website: http://www.richmondhotelcebu.com/
F. Sotto Drive, Gordo Ave.
Cebu City
Tel. Nos.: (+6332) 232-4616 to 27
(+6332) 232-0361
Email : info@richmondhotelcebu.com
How to Get to Cebu
Manila to Cebu and Back: Flights from Manila to Cebu via Philippine Airlines, Cebu Pacific and Air Philippines are scheduled daily with round trip tickets priced at an average of P4,000.00. Another way to get to Cebu is by sea via Super Ferry Lines. The approximate cost of a round trip boat fare is P2,400.00 and travel time is about 21 hours.
Getting Around Cebu: The fastest and simplest way to move around the city is by riding a taxi cab where a trip will typically cost approximately P100 provided you know the name of the street, building or area you want to reach. If you are the adventurous type, you can opt for a jeepney or a bus, which at P7.00 to P10.00 per trip, are a much cheaper yet fun way of getting around the city and rub elbows with the city's friendly "hoi poloi."
Dumaguete to Cebu and Back: Board the Oceanjet fast craft that leaves Dumaguete at 2:20 PM bound for Cebu via Tagbilaran. A round trip boat fare would cost you P1,600.00 and travel time is approximately 4 hours.