Vigan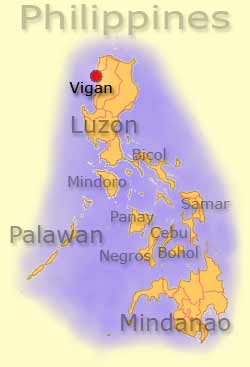 As you gaze at the massive 16th century brick and plaster houses with red-tiled roofs and imposing doorways that line the narrow cobblestone street, a compelling sense of history overwhelms you. While a horse-drawn calesa clickety-clacks down the street and friendly smiling faces peer out the sliding capiz windows and ventanillas, you realize that you are in Vigan—the capital of Ilocos Sur and the only surviving colonial town in the Philippines.
This quaint little city lies along the western seaboard of Northern Luzon 408 kilometers north of Manila. It is bounded on the south by the Municipality of Caoayan; on the north by the Municipality of Bantay; on the east by the Municipality of Santa; on the west by the Municipality of Sta. Catalina; and, on the southwest by the China Sea.
The centuries-old houses, churches, plazas, public buildings and cobblestone-paved streets of Vigan is a living, breathing heritage of the country's colonial past excellently preserved for posterity to behold. Patterned after the design of the Walled City of Intramuros, Vigan was established in 1572 by Juan de Salcedo. It was later called Ciudad Fernandina in honor of Prince Ferdinand, the son of King Philip II of Spain, and became the seat of the Archdiocese of Nueva Segovia.
The city's heritage structures which retained much of the patina of Spanish colonial architecture have remarkably escaped the ravages of World War II in the Philippines. As you go around in this unique Northern Luzon city, its colorful colonial past is evident everywhere rightfully earning its inclusion in the prestigious UNESCO World Heritage List in December 1999.
The name of this World Heritage City was derived from the Ilocano word "kabiga-an," which refers to the "biga" plant or alocadia indica that once grew in abundance along the banks of the Abra River where Vigan began as an important coastal trading post populated mostly by Chinese settlers.
What to See in Vigan
Vigan is a small place and it will not take you more than a day to do the rounds of the city's attractions. If you are a history buff you will definitely enjoy checking out the city's ancestral houses, religious and public edifices, squares and other historical landmarks built during the Spanish colonial period that fuses Oriental design with European colonial architecture. But it is not only these classic structures of bricks, stones, tiles and hardwood that have been well-preserved. The industrious people of Vigan have also remained steadfast to their forebear's time-honored crafts of burnay making (pottery) and inabel (hand loom weaving). For about P150.00, you can travel back in time on board a horse-drawn calesa the way the locals did it during the Spanish colonial period and visit heritage sites like:
Crisologo Street: Passing through this cobblestone-paved street is like being transported back to the Spanish era sans the dreaded Guardia Civil. Most of the city's heritage houses are clustered here. If you wish, you can climb down your calesa, take a couple of video or still shots and go souvenir shopping at the many stores that line the street.
Arzobizpado: This arzobizpado, or archbishop's palace, which was built in 1783 is the only surviving 18th century arzobizpado in the entire country. In 1898, it served as the headquarters of General Emilio Aguinaldo and was taken over in the succeeding year by the invading American colonizers under Col. James Parker. This ancient religious site features a throne room, religious paraphernalia gathered from different colonial churches all over province and priceless ecclesiastical artifacts.
Plaza Burgos: Take a relaxing stroll at the Plaza Burgos, which was named after the martyred Filipino priest, Father Jose P. Burgos. As you contemplate in the clean surroundings and marvel at the 100-year old Bell Tower of nearby Vigan Cathedral, you can munch on a crispy empanada fresh off the frying pan that you can buy for about P25.00 from any of the kiosks that sell the delicacy at the plaza.
Where to Eat in Vigan
When in Vigan, see the sights, meet the locals and taste its culinary delights. Miss one these and you go home with an incomplete tour experience. Every place has its own flavors and delicacies to offer the intrepid traveler. Vigan is no different with its spicy longaniza, crispy bagnet, pinakbet and dinengdeng that are the specialties of almost any restaurant in town. If you have a sweet tooth, pass by the Public Market and buy yourself local sweets like dila-dila, sinambong, patupat and dudol. You will never feel the pangs of hunger when you take a long walk down by Plaza Burgos because the town's famed crispy okoy and empanadas served with mild Ilocos vinegar are as ubiquitous as burgers and fries.
Grandpa's Inn: A whiff of the irresistible aroma of Vigan longaniza sizzling on the frying pan will surely make you feel hungry enough to eat a horse. And if you follow the scent, your feet will likely bring you to the doorsteps of Grandpa's Inn, a cozy Spanish style restaurant along Bonifacio Street that serves well-known Ilocano delicacies at very affordable prices. Quickly grab a seat and order the specialty of the house: Vigan longaniza served with atsara (pickled veggies) is priced at P90.00, which is enough for two people; and, for the same amount of serving, an order of bagnet (crispy fried pork) and a side dish of freshly plucked tomatoes with fish bagoong (salted fish paste) will cost you only P150.00. When the platter of steaming hot rice is served with your order, brace yourself for the most delightful culinary experience of your life.
Café Leona: One of the more popular eateries in city, Café Leona is a quaint old house sitting along Crisologo Street with a cozy, nice ambiance. Try its delicious version of guinisang mongo which goes quite well with the longaniza specialty of Ilocandia served with tomatoes and bagoong. Bon apetit!
Café Uno-Vigan: A charming little coffee shop that specializes in pastries, pasta, beverages and local dishes. If you're looking for a place to have some light snacks, why not try some of its pancakes and a pot of healthy green tea to wash it down with. But if you're spoiling for heavier grub, a serving of steaming pinakbet and crispy bagnet will be a meal you'll never forget.
Where to Stay in Vigan
Wait till your folks back home hear that you stayed in a real 16th century house and dozed off to dreamland in its antique four poster canopy bed that evoked vivid reveries of Spanish colonial Vigan. This is not wishful thinking but a delightful reality because many ancestral houses in the city were actually turned into cozy hotels and pensiones to address the billeting requirements of its growing number of visitors.
Vigan Hotel: This elegant Spanish era mansion which was inherited by Mr. Oscar Villanueva from his forebears is one of Ilocandia's pride and treasures. Converted into a hotel fifty years ago this 18th century heritage house is one of the town's better known landmarks that offers comfortable accommodations at unbelievably low prices. Equipped with cable TV, DVD players and 24/7 wi-fi Internet connectivity, its double bed rooms are offered at an unbelievably low price of P795.00.
P. Burgos Street
Vigan City, Ilocos Sur
Tel. No. : (+6377) 722-1906
CelPhone : (+63915) 549-8763
Email : viganhtl@digitelone.com
Villa Angela: Built in 1870 by Gobernadorcillo Agapito Florendo y Bonifacio, this heritage house turned hotel is a depository of generations of family memorabilia and its rooms are filled with antique furniture seen only in ancient colonial mansions. Its standard rooms feature air conditioning, cable TV and private toilet and bath. A double bed room is yours for the night for only P1,000.00.
Website: http://www.villangela.com/
26 Quirino Blvd.
Vigan City, Ilocos Sur
Telefax : (077) 722-2914
Email : info@villangela.com
Cordillera Inn: Another well-preserved ancestral Vigan home right in the heart of the city that offers a cozy, warm atmosphere that guarantees a rewarding and enjoyable stay. With rates starting at P1,500.00, guests will enjoy standard rooms with air conditioning, hot and cold water, TV and mini bar.
Mena Crisologo Street
Vigan City, Ilocos Sur
Tel. No. : (077) 722-2727
How to Get to Vigan
Manila to Vigan and Back: You can get to Vigan from Manila using either of the two modes depending on your budget and schedule:
1. Overland: Backpackers and budget travelers will enjoy taking that comfortable nine-hour overland trip because it's a great opportunity to ogle at the countryside scenery while the bus rolls northward. There are air conditioned buses that leave Manila stations on scheduled runs to Vigan such as Dominion and the Philippine Rabbit Bus Line. A one-way ticket costs about P500.00 – P550.00. Buses like Partas Bus Co. might cost a bit more because its coaches have only three seats across and have better reclining positions.
2. By Air: If you are on a tight schedule and don't have the luxury of time to take that overland trip, then it's perfectly all right for you to fly to Ilocandia instead. Philippine Airlines and Cebu Pacific service the Laoag International Airport thrice a week. Approximate cost of the 70-minute flight is P3,000 (one-way). Public transport is available for that 80-kilometer trip from Laoag International Airport to Vigan. A comfortable Partas air conditioned bus is recommended for that one-a-half hour ride which will cost you about P150.00 (one way).
Cebu to Vigan and Back: To reach Vigan from Cebu, you can either fly from Cebu to the Manila Domestic Airport in Pasay or sail from Cebu to Manila. The cost of a round trip plane ticket is approximately P4,000.00 – P5,000.00. On the other hand, a round trip boat fare would cost about P3,000.00 – P4,000.00. Upon arrival, choose any of the two options above to get to Vigan from Manila.
Dumaguete to Vigan and Back: To reach Vigan from Dumaguete, you can fly from Dumaguete to the Manila Domestic Airport in Pasay City. The cost of a round trip plane ticket is approximately P4,000.00 – P5,000.00. Upon arrival, choose any of the two options mentioned above to get to Vigan from Manila.