Parañaque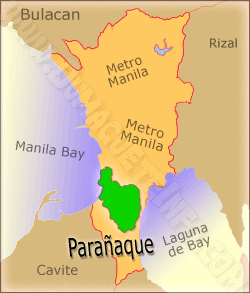 A thriving city of 4,770 hectares located about 8 kilometers south of the City of Manila, Parañaque is bounded by Las Piñas City in the southwest, Muntinlupa City in the southeast, Pasay City in the north and Boulevard 2000 of the reclaimed area of Manila Bay in the west.
Like many cities surrounding Manila, the history of Parañaque dates back to pre-Hispanic times when the early inhabitants of the place, which had access to the sea, actively traded with Malayan, Indonesian, Indian and Chinese seafarers. In 1572, the town of Parañaque was founded and inhabited by an industrious people engaged in weaving, slipper and shoe-making, salt-making, fishing and planting rice. It was then known as Palanyag, which means "my beloved," describing the affection of its people to their town.
There are many anecdotes on how the present name of this city derived. But the most logical assumption is that, as different people migrated into this flourishing town, its name was gradually adulterated resulting into the word "palanyague" which later was corrupted into "Parañaque". True enough, only ten percent of its population is native to the area, the rest is a mixture of migrants from the different regions of the Philippines and from other countries as well who have come to love the city and its potential for growth. Parañaque today is a melting pot of cultures and races.
What to See in Parañaque
There are so many things for the visitor to see and learn from a bustling city with a culture and history as varied and colorful as Parañaque that it would fill a book. For want of space, these have been condensed to the following places, events and activities that are a "must see" for the visitor who wants to have a glimpse of a cross section of the city's cultural heritage.
The Redemptorist Church in Baclaran: This is the most visited and well-attended church in Asia because it is the Shrine of Our Lady of Perpetual Help. It is widely believed by many devotees here and abroad that their fervent petitions will be granted through the intercession of Our Lady of Perpetual Help, and that a novena rarely fails to result in the granting of the petition. On June 28, 1948, the first novena was celebrated at the shrine.
Ten years later, in 1988, the Redemptorist Fathers who run the shrine constructed and consecrated a more spacious church to accommodate up to 12,000 people. Since then, it has always remained open and every Wednesday, thousands of devotees from all over Metro Manila and from outlying provinces journey to hear mass and pray their novena at the shrine located in a city that has become known as the "Novena Mecca of Metro Manila."
City Events: The people of Parañaque celebrate with aplomb numerous annual events that are steep in their historical and religious beliefs. The "Araw ng Palanyag," or "Parañaque Day," celebrated on February 15 kicks off city-wide events such as the Sambalilo Festival, Regatta de Palanyag and stage plays like the Komedya or Moro-Moro. During the Lenten Season, the people of the city observe the following with a solemnity rarely seen in other places outside the city: The Linggo ng Palaspas, or Palm Sunday; the Pasyon, or chanting of Christ's life, passion, death and resurrection; Sinakulo, or Way of the Cross; and, Salubong, or Easter Vigil. This week-long religious event culminates with the celebration of the Holy Mass followed by the "Sayaw ng Pagbati," or "Welcome Dance" rendered by all the barangays.
During the merry month of May, the "Flores de Mayo," a procession of the city's fairest ladies and offering of flowers to the Blessed Virgin is held after nine days of prayers, or novena. The "Sunduan," which dramatizes an old courtship custom of a gentleman fetching her lady love to escort her home seems to reflect the romantic nature of the city's residents. But in a deeper sense, this custom is a metaphor of the Blessed Virgin's ascension to heaven accompanied by her son, Jesus Christ. The "Caracol," also held during the month of May highlights a lengthy procession to celebrate the Feast of Sta. Rita de Cascia, the patron saint of Baclaran.
Bulungan sa La Huerta: Literally translates to "whispers in La Huerta." Bulungan sa La Huerta is therefore not a place name but rather a description of an activity in La Huerta, where the freshest fish catch from other parts of the country are landed. At dawn or late afternoon, when the catch is brought to port, fish retailers from Manila markets converge to this place and haggle for wholesale purchases. The buyer negotiates the purchase by whispering to the seller to keep his price offer or bid unknown to other buyers bidding for the same lot of fish catch.
Where to Eat in Parañaque
'Dampa' sa Parañaque: This well-known place in the city located along Ninoy Aquino Avenue in Barangay San Dionisio began as a cluster of shacks, or 'dampa,' that offer cheap home-cooked food. Today it has grown into a complex of restaurants and stalls selling fresh sea food. Within this complex, you can buy fresh king crabs, lobsters, tiger prawns, shrimps, oysters, mussels and fishes and bring these to any of the restaurants where they will cook the sea food in any which way you like for a service fee of USD1.00, or P40.00 per dish. While waiting for your food, you can sip on a frosty mug of the world famous San Miguel Beer as you watch the world go by. For P1,500.00, a group of five would be able to feast on a sumptuous sea food meal at Sharmila's, the most popular restaurant at 'Dampa.' If you are not on a strict diet, by all means—go to this place and have the culinary experience of your life.
Toho Restaurant Antigua: If you love big servings of Chinese food that comes with a bill that won't even put a dent on your wallet, then check out this joint located at 16 President's Avenue, Sucat, Parañaque.
Las Paellas Café: Farther up the road at 63 President Avenue, you will find this classy establishment that offers just about the best tasting authentic Spanish cuisine in these parts. While the food is quite pricey, it's worth the experience to try out their Callos or Kare-kare cooked Iberian style.
Where to Stay in Parañaque
Rodello's Bed and Breakfast: Your accommodations in the city need not be expensive, especially if you intend to be out the whole day seeing the sights or enjoying the nightlife. With rates starting at USD35.00, or P1,400.00, this B&B inn is specifically targeted at backpackers, business travelers, tourists and even families seeking fun at affordable cost.
Website: http://www.rodellos.com/aboutbnb.htm
Moonwalk Subdivision,
Parañaque City
Tel. No.: (632) 776-9576
E-Mail: bnb@rodellos.com
El Grande Hometel Inn: This charming bungalow inn is ideal for young tourists, backpack travelers and visitors who would like to enjoy the comforts of a quiet, air conditioned home-style bedroom with private toilet and bath at the most affordable rates. Room rates start at rock bottom P700.00 per day.
344 El Grande Avenue, BF Homes
Sucat, Parañaque City
Tel. Nos. (632) 825-7524 or 827-5345
Fax No.: (632) 411-2311 or 376-2233 both telefax
The Manila Airport Hotel: If you are looking for an elegant place to stay with world standard rooms that is centrally located from the airport, Duty Free shops and Casino, then this is just the place for you. With rates starting at P2,398.00, you can enjoy five-star amenities, great service and excellent security.
Website: http://airporthotelmanila.com
Ninoy Aquino International Airport 1 Complex
Parañaque City
Tel. No.: (632) 854-7549
Fax No.: (632) 854-7550
How to Get to Parañaque
Manila to Parañaque and Back: The Light Rail Transit (LRT-1) is the fastest and cheapest way to get from Manila to Parañaque. From its station in Monumento, the LRT traverses the Rizal Avenue Ext. in Caloocan going to the City of Manila all the way up to Baclaran in Parañaque City in less than thirty minutes for less than P30.00
Cebu to Parañaque and Back: To reach Parañaque from Cebu, you can either fly from Cebu to the Manila Domestic Airport in Pasay or sail from Cebu to Manila. Approximate cost of a round trip plane ticket is P4,000.00 – P5,000.00 while a round trip boat fare is approximately P3,000.00 – P4,000.00. If your point of disembarkation is the Pier Area in Manila, you can take a jeepney or cab to the LRT-1 station in Avenida Rizal and board the train going to Baclaran in Parañaque. The taxi fare from the Pier Area to the LRT-1 station is about P100.00-P150.00, while the jeepney fare is cheaper at P7.50 (one way). The LRT train fare is less than P30.00.
Dumaguete to Parañaque and Back: To reach Parañaque from Dumaguete, you can fly from Dumaguete to the Manila Domestic Airport in Pasay. Approximate cost of a round trip plane ticket is P4,000.00 – P5,000.00. Then, you can hop into a jeepney, bus or taxi cab and take that very short trip to Parañaque just a few hundred meters away from the airport.