Pasay City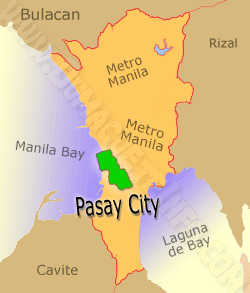 One of the four cities that originally comprised Metro Manila, Pasay is the third smallest city in the National Capital Region with an area of only 1,900 hectares. It is adjacent to the City of Manila and is bordered by the Manila Bay to the west, Makati and Taguig cities to the northeast and Paranaque City to the south.
Because of its close proximity to the City of Manila and access to Manila Bay, the city shares with the national capital a history and rich culture that dates back to pre-Hispanic times. Story has it that the city's origin can be traced to the reign of Rajah Soliman who ruled Maynilad, a Muslim kingdom on the southern delta of the Pasig River. It is said that he married a Princess from Sumatra who bore him a son and a daughter—Prince Sowaboy and Princess Pasay. Prior to his death, Rajah Soliman divided his kingdom to his two heirs and the half that went to the princess was named Pasay.
Among the cities in Metro Manila, Pasay has the largest area earmarked and devoted to vital infrastructure and utilities. More half of its total land area, or 950 hectares, is occupied by Terminal 2 and Terminal 3 of the Ninoy Aquino International Airport, the Manila Domestic Airport and Villamor Airbase. The city proper covers only about one-fourth of its land area, or 550 hectares because the balance of 400 hectares represents the area reclaimed from Manila Bay where the imposing Cultural Center Complex (CCP) is located.
What to See in Pasay
Pasay City is not known as the "Cultural Center of Metro Manila" for nothing because most of its attractions are at the CCP Complex. Located in this area which is devoted to the development and promotion of the arts, culture and trade are the Tanghalang Francisco Balagtas, Coconut Palace, Cultural Center of the Philippines, Manila Film Center, Philippine International Convention Center, World Trade Center-Metro Manila, Philippine Trade Training Center, Product Design and Development Center of the Philippines. The Cuneta Astrodome where sporting events and beauty pageants are held and theme parks such as Nayong Pilipino, Boom na Boom and Star City are located nearby. Popular destinations of visitors to Pasay are the following:
The Coconut Palace: Located along Eduardo A. Makabenta Street at the CCP Complex, this luxurious venue is a palace made of coconut lumber, coconut shells and various Philippine hardwood to celebrate the coconut as the "Tree of Life." Literally every part of the coconut tree is used in the construction, design and ornaments of the Coconut Palace—from its trunk and roots to the bark, flower, fruit and shell.
Nayong Pilipino: Touted as the country's one and only cultural park. Located along MIA Road, Nayong Pilipino presents the Philippines in miniature and showcases the rich cultural and natural heritage of the country through indigenous architectural styles, creative crafts, art and cultural presentations.
SM Mall of Asia: Located at the southernmost tip of EDSA inside the reclaimed area is the biggest shopping mall in the country and listed by Forbes magazine as the third largest in the world. Some of the main attractions the SM Mall of Asia are the first ever IMAX theater in the Philippines and an Olympic-sized skating rink, which is reputedly the biggest in Southeast Asia.
Where to Eat in Pasay
Cities that have so many attractions to offer like Pasay must be able to feed its multitude of visitors that flock to its tourist destinations every day. Restaurants, eateries and fast food chains in malls, tourist belts and cultural centers all compete for the attention and patronage of visitors: Among these are:
Singkit: Located at Harbor Square at the CCP Complex, this establishment offers authentic Chinese specialty food that is either delivered or served fresh and piping hot to dine-in patrons in charming take-out boxes, just like in New York. Popular orders are the classic chicken with quail eggs, mouth watering lechon Macau, the ubiquitous but sumptuous sweet and sour pork and yummy mixed vegetables and beef broccoli. A meal good for four people will cost a very reasonable P350.00.
Chef de Angelo: If you are into pasta, then this mid-range Italian restaurant is for you. Located on the 1st level at the Main Mall of the Mall of Asia, this joint offers salad, pizza and pasta. But if you are looking for a heavier meal, you can throw in an order for buffalo chicken wings priced at about P800.00 for an order good for five people.
Pink Pepper: Wrap up your visit with a gastronomical, albeit, a bit pricey experience at the Pink Pepper found at the Esplenade, Bayside at the Mall of Asia. An order of pepper steak with a dash of sweetish, mildly hot pink pepper after which this classy joint was named priced at around P430.00, or a nutritious salmon wrap costing P420.00 should not be eaten with your eyes shut to savor the food better, otherwise you will miss the golden splendor of the romantic Manila Bay sunset.
Where to Stay in Pasay
This metropolitan center of culture boasts of numerous hotel accommodations for visitors coming from all over the country and the throughout the world. These accommodations range from expensive elegant five-star hotels to unpretentious yet classy places for the budget conscious traveler. Examples are:
The Heritage Hotel: Located near the CCP Complex, theme parks and airport, this elegant place feature 467 tastefully appointed guest rooms that include coffee makers, complimentary newspapers and bottled water, cable TV, direct dial telephone, in-room safes and friendly, attentive staff. Room rates start at a hefty P5,635 for the visitor who want nothing but the best accommodations.
Website: http://www.millenniumhotels.com
Roxas Boulevard corner EDSA
Pasay City
Tel.No. +1 800 1 11 0782 (international)
Email: inquiry@heritagehotelmanila.com
Traders Hotel Manila: Located right in front of the Cultural Center of the Philippines, this mid-range hotel offers internet connectivity, coffee/ tea maker, IDD/ NDD telephone, in-room locker, cable/satellite TV, in-house movie channels and mini-bar.
Website: http://www.shangri-la.com/manila/traders/en/
3001 Roxas Blvd.
Pasay City
Tel. Nos. +63(2) 523-7011 to 20
Email: thm@shangri-la.com
Kabayan Hotel: Located at the Pasay Rotonda a spitting distance from the MRT station along EDSA, this budget hotel offers a secure, functional and convenient accommodation. With room rates starting at USD47.00, or P1,880.00 converted at current forex rates, this budget hotel offers air conditioned rooms, cable TV, bedside control panel, mini-bar, private toilet and bath.
Website: http://www.kabayanhotel.com.ph
2878 Zamora Stree corner EDSA
Pasay City
Tel. No. (632)891-6452; 831-5152
E-mail : info@kabayanhotel.com.ph
How to Get to Pasay
Manila to Pasay and Back: The Light Rail Transit (LRT-1) is the fastest and cheapest way to get from Manila to Pasay. From its station in Monumento, the LRT traverses the Rizal Avenue Ext. in Caloocan going to the City of Manila all the way up to Pasay City in less than thirty minutes for less than P30.00
Cebu to Pasay and Back: To reach Pasay from Cebu, you can either fly from Cebu to the Manila Domestic Airport in Pasay or sail from Cebu to Manila. Approximate cost of a round trip plane ticket is P4,000.00 – P5,000.00 while a round trip boat fare is approximately P3,000.00 – P4,000.00. If your point of disembarkation is the Pier Area in Manila, you can take a jeepney or cab to the LRT-1 station in Avenida Rizal and board the train going to Pasay. The taxi fare from the Pier Area to the LRT-1 station is about P100.00-P150.00, while the jeepney fare is cheaper at P7.50 (one way). The LRT train fare is less than P30.00.
Dumaguete to Pasay and Back: To reach Pasay from Dumaguete, you can fly from Dumaguete to the Manila Domestic Airport in Pasay. Approximate cost of a round trip plane ticket is P4,000.00 – P5,000.00.