Pasig City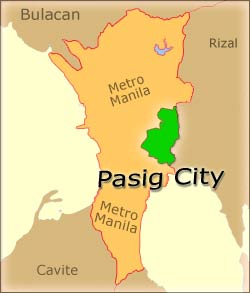 Located on the southeastern tip of the great river of lore and legend after which it was named, Pasig City is bounded on the west by Mandaluyong City and Quezon City; on the east by the Municipality of Cainta; on the south by Makati City, Taguig City and Pateros; and, on the north by Marikina City.
Bodies of water nurture life and civilization because it provides for man's food and quenches his thirst, facilitates his mobility and irrigates his fields. In the early days, the Pasig River was teeming with life not only beneath its cool crystalline waters but along its fertile banks as well where flourishing settlements have taken root. Pasig City residents who are native to the area are Tagalogs who trace their roots to settlers from Cainta and Taytay and other neighboring eastern towns that thrived even before the coming of the Spanish colonists. These early settlers called themselves "taga-ilog," which generally means "river people," and was later contracted to "Tagalog." Most ancient cultural centers of the Tagalog regions were founded on river banks or near the delta where the mouth of the river meets the sea. Present day Tagalogs refer to a cultural group in areas covering Regions III, IV and the National Capital Region who spoke a language on which Filipino is now based.
Determining the origin of the city's name invariably required sifting through the many stories and legends surrounding the mighty Pasig River after which it was named. The most persuasive theory was advanced by Dr. Jose Villa Panganiban a noted linguist and former director of the Institute of National Language who stated that the word "pasig" is an ancient Sanskrit term that referred to a "river that flowed from one body of water to another." Such is the case of Pasig River, which made it an important travel route from Laguna de Bay to Manila Bay. Because of their strategic locations, riverine communities like Manila and Pasig were centers of trade and commerce in pre-Hispanic Philippines, but it was also precisely because of this that they were the focal points of military interest and conflicts. While the river bustled with activity, life in the community that sprawled beside it was pleasant, idyllic and serene.
Because of its excellent location and access to major transport routes such as the Pasig River and the EDSA beltway, presence of adequate facilities and utilities, vital infrastructures and a bottomless supply of skilled and literate workforce, this once bucolic town is now one of the country's fastest rising commercial and industrial cities in Metro Manila. The boom started with the establishment of the Asian Development Bank headquarters in the city followed by other financial institutions and multinational companies. What was once a lush green landscape is now a horizon of skyscrapers, huge malls and commercial complexes such as Ortigas Center, a fast growing business district that is giving the Ayala Center in Makati a run for its money. Today, Pasig City offers a healthy mix of business, recreational and leisure experience to visitors as it slowly regains its past glory of being the hub of trade and commerce of Metro Manila.
What to See in Pasig City
Even while the city hums with commercial and industrial activities, its attractions offer the visitor some quite and engaging moments to look back and reflect on a colorful time of its past when the city was young and life was easy and carefree.
Tiendesitas: Located along Ortigas Avenue at the corner of C5 Road, this novelty shopping complex with a unique Maranao architectural design is a must-see attraction for visitors. True to the spirit of its name, which means "little stores," Tiendesitas is a 3-hectare village composed of 450 shops selling products from all over the Philippines. Here, you would find everything under the sun from delicious specialty food, clothing and fashion accessories to antiques and souvenir items and even pets. For the tired and hungry shopper, there is even a huge area within the complex that provides inexpensive meals and entertainment by performers on stage. To complete the rustic, native ambiance, a horse carriage ride gives the visitor the option to go back in time. This is a place that you definitely would not want to miss during your trip to Pasig.
Doña Geronima's Cave: Located in Barangay Pineda, this mysterious cavern continues to baffle residents and commuters in the area. Legend has it that a generous enchantress lived in this cave whose narrow passages led up the mountain where a mansion built for her by her loved one is located. This mystic cave and its enchanted resident has been the subject of an anecdote by the Philippine National Hero, Dr. Jose Rizal in his famous novel, "El Filibusterismo."
Ang Bahay na Tisa: Located at the west end of P. Gomez Street in Barangay San Jose, this 162-year old stone house of Spanish architecture is owned by the Tech family and is often used as a venue for art shows and cultural forums. More important than its elegant design and robust build, this structure was a secret witness and passive participant in historic events that unfolded in the past. Within the 65-centimeter thick walls of this 500 square meter structure, Katipunan patriots held secret meetings during the Philippine Revolution against Spain and sheltered Filipino guerilla freedom fighters forty-five years later during the Japanese occupation of the country.
Where to Eat in Pasig City
Barcino Gourmet: In this cozy little wine and tapas bar located at City Golf Plaza along Julia Vargas Avenue, you can eat and drink excellent wine for as long as you want just like the Spaniards do during their heyday in the country. Home cooked Spanish cuisine such as paella, callos and fabada come at a very reasonable price. On your next visit to Pasig, why not try its tapas and premium aged wine.
Heat: Situated in the swanky EDSA Shangri-la Manila Garden Way in Ortigas Center, this restaurant has 20 distinct open cooking theaters with chefs preparing specialties ala minute. Various stations laden with not too pricey Oriental and Western food will surely satisfy even the most fickle of taste buds. Salmon sa miso and lechon are just some of the recommended specialties for the first timer.
Paparazzi: If you are craving for Italian food, then why not try this joint located also at EDSA Shangri-la Manila whose traditional Italian dishes suits the Filipino palate quite well. You can start your course with Golden Scallop Salad then order the Manila Baby Lobster Linguine or other signature dishes such as fried calamari, grilled Portobello mushrooms or pan fried sea bass. You would think that the price of the food is a bit on the high side, but when you get to taste these specialties, you'd realize that they are worth the price on the menu.
Where to Stay in Pasig City
For the visitor or the resident, Pasig City is a good place to stay in. Since the city plays host to business and financial activities, it must necessarily have premium quality yet very affordable hotels such as:
The Richmonde Hotel: Located at the very heart of Ortigas Center, this plush hotel is just a few minutes away from financial institutions, blue-chip corporations, premier academic institutions and shopping and recreational centers. With rates starting at USD90.00 or P3,600.00 converted at prevailing forex rates, guests are entitled to air conditioning, multi-function telephone system, cable TV, Internet connectivity, mini bar, hair dryer, coffee/tea maker, and alarm clock.
Website: http://www.richmondehotel.com/
21 San Miguel Avenue
Ortigas Center, Pasig City 1600
Metro Manila, Philippines
Astoria Plaza Suites: This 35-storey high rise hotel's well-appointed rooms are just perfect for the business and leisure traveler wanting to be at the center of all things exciting and interesting in the city. With rates starting at USD83.00 or P3,320.00 converted at current forex rates, guests will enjoy air conditioning, two twin single beds or one queen sized bed, audio/ video entry phone, IDD/NDD telephone, DVD player, Cable TV, room safe, coffee/ tea maker and ref.
Website: http://www.astoriaplazasuites.com/
15 J. Escriva Drive
Ortigas Business District
Pasig City
Tel. No. (+632) 687-1111
Fax No. (+632) 910-0370
Stables Guesthouse: This B&B located in a gated, well-secured subdivision in the city is just right for budget travelers seeking accommodations just 15 minutes from the business district, commercial and shopping centers, malls and the MRT trains and major transport routes. With rates starting at P1,150.00, travelers are entitled to inside and outside living room, dining area, a small library, TV/music and home theater room, a full kitchen and automatic washing machine.
1 Kariktan St.,
Kawilihan Village
Bagong Ilog, Pasig City
Tel. Nos. (063)534-0963 or 671-4520
How to Get to Pasig City
Manila to Pasig and Back: The Metro Rail Transit (MRT) is the fastest and most economical way to get from Manila to Pasig. Take a train bound for Quezon City at the MRT station in C.M. Recto Avenue. Get off at the MRT station in Cubao and hop into another train bound for Makati. Alight at the MRT station in Shaw Blvd. in Mandaluyong then just cross EDSA to get to the Pasig side of the Ortigas Center. The entire trip should take less than one hour and will cost less than P50.00. Alternatively, you can ride on a jeepney from T.M. Kalaw in Manila with a Quiapo signboard. Get off at Quiapo and flag another jeepney with a Pasig signboard. The jeepney rides should cost not more than P50.00.
Cebu to Pasig and Back: To reach Pasig from Cebu, you can either fly from Cebu to the Manila Domestic Airport in Pasay or sail from Cebu to Manila. Approximate cost of a round trip plane ticket is P4,000.00 – P5,000.00 while a round trip boat fare is approximately P3,000.00 – P4,000.00. If you disembark at the Manila Domestic Airport, you can hop into a taxi cab or take the jeepney to the MRT station in Baclaran and board the train bound for the Shaw Blvd. station in Pasig. If your point of disembarkation is the Pier Area in Manila, you can ride on a jeepney or cab to the LRT-1 station in Rizal Avenue then take the train going to Baclaran in Parañaque. Once there hop on the train going to Shaw Blvd. station in Pasig. The taxi fare from the Pier Area to the LRT-1 station should cost you only about P100.00-P150.00, while the jeepney ride will be cheaper at P7.50 (one way). The train tickets, on the other hand, are less than P50.00.
Dumaguete to Pasig and Back: To reach Pasig from Dumaguete, you can fly from Dumaguete to the Manila Domestic Airport in Pasay City. From the airport, flag a taxi cab or a jeepney bound for the MRT station in Baclaran then board the train going to Shaw Blvd. in Pasig. Approximate cost of a round trip plane ticket is P4,000.00 – P5,000.00. The taxi fare will cost about P150.00 while the train ride to Pasig City is less than P30.00.