Quezon City: "Hollywood of the Philippines"
Quezon City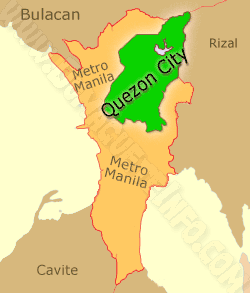 A sprawling land of 16,620 hectares of gently rolling hills straddling the Guadalupe plateau, Quezon City comprises the biggest portion of Metro Manila and is the second largest city in the country next to Davao City in Mindanao. It is bounded by the City of Manila on the southwest; Marikina and Pasig cities on the southeast; San Juan and Mandaluyong cities on the south; and, Caloocan and Valenzuela cities on the west and nortwest. Just across the Marilao River, lies San Jose del Monte City in the Province of Bulacan and to the east are the Municipalities of Rodriguez and San Mateo in the Province of Rizal.
Few would perhaps argue that it was here where the Filipino nation state was born. Barangay Bahay Toro in the Tandang Sora District of this wide expanse of rolling hills is the historic site of the "Cry of Pugad Lawin." This was a defining moment in Philippine history when a thousand Katipunan patriots led by Andres Bonifacio declared on August 23, 1896 their rebellion against the Spanish colonial government. It was perhaps because of this milestone in its journey from colony to sovereign nation that one great Filipino leader dreamed of building the country's capital city on these hills. The Quezon City Charter lapsed into law on October 12, 1939, and on July 17, 1948, it was proclaimed by Republic Act No. 333 as the capital of the Philippines–finally fulfilling the dream of President Manuel L. Quezon, in whose honor the city was named. But twenty-eight years later, on June 24, 1976, President Ferdinand Marcos declared the City of Manila as the new capital city by virtue of Presidential Decree No. 940.
In the ensuing years, the verdant pastures and rolling hills gradually gave way to multi-storey buildings, tree-lined boulevards, spacious parks, entertainment centers and commercial areas popular with shoppers all over the metropolis. More than half of the city's total land area had been developed for residential purposes. This modern metropolis was dubbed as "The Hollywood of the Philippines" because of its distinction of being the enclave of TV and broadcast networks and film companies that churn out TV shows, movies and music.
What to See in Quezon City
Because it is categorized as a highly urbanized city, no one would ever imagine that this modern neon-lighted metropolis would harbor a slice of Nature right in its bosom. Situated near the Quezon Memorial Circle is the Ninoy Aquino Parks and Wildlife Nature Center, an 80-hectare complex of forest cover, lagoon, mini zoo, craft village and a fishing village. The various specimens of flora and fauna including the world famous monkey-eating eagle will certainly appeal to the nature tripper in you.
But what is particularly interesting about Quezon City is its people. While it has a cosmopolitan culture, lifestyle is surprisingly fresh, easy and warm, and not quite what would be expected of the usual elite urban setting where the social temperament is more reserved and laid back.
What better way is there for first time visitors than to get to know the paradox of urbanites with rustic charm. So, toss your cares away; let your hair down and meet people; take walks around the city; explore its huge malls; go to nearby cafes and bars where young professionals flock to relax and enjoy the vibrant nightlife; and, be hip in its tourist belts. Up close and personal, you will view both the people and the city through rose-colored glasses and love every minute of it. You can best see and do all these at the following places:
Eastwood City Business Center: It is one of the country's newest and spankiest commercial area located along the southeasthern corner of the city in the Libis District. Be sure to be here starting at dusk to witness the serious businesslike mood magically transform into a jovial, care-free atmosphere. The open air restaurants and coffee shops are great venues for drinking and dining al fresco among the imposing office and residential skyscrapers while listening to outdoor band music.
Tomas Morato-West-Timog-Quezon Avenue Tourist Belt: This cluster of avenues in the Kamuning District is known for its night entertainment. Disco houses, night clubs, karaoke joints, and elegant restaurants are all found here. If you are the adventurous type looking for novelty entertainment, try Zirkoh or Klownz along the Quezon Avenue stretch. These popular comedy bars are co-owned by showbiz personalities Allan K, Ai-Ai de Las Alas and others who sing on stage, run gags, interview, rib and make fun of people in the audience, and ask them to come up on stage and sing with them. Visit these joints with one caveat—remember not to take the jokes and ribbing personally, because these are done in good humor and spirit.
Araneta Center: Located in the Cubao District, this busy area that is often compared to Madison Square in New York City is the focal point of business activities in the city. Clustered here are all kinds of establishments that you can imagine like gigantic supermarkets and department stores, novelty boutiques, restaurants, theaters, banks and other financial institutions. Some of the biggest and spankiest malls and stores can be found here such as Gateway, Ali Mall, Farmer's Plaza, Rustan's and Shopwise. At the heart of this commercial complex is the famous "Big Dome," the Araneta Coliseum.
University of the Philippines: The city is a center of learning as students from all over the country flock to its top-notch educational institutions which produced many of the country's best leaders, artists, writers and professionals. Foremost among these is the main campus of the University of the Philippines in Diliman District. Established in 1908, this state-owned institute of higher learning is considered the finest in this particular region of the world. Try a rejuvinating morning stroll amidst the towering ancient acacia trees in this sprawling 450-hectare educational institution as you contemplate the political and social dynamics of the nation that young minds are dissecting within the halls, corridors and rooms of this premier university.
Where to Eat in Quezon City
You will never run out of places to grab a bite to eat when you are in a city that never sleeps; and where fast food chains and restaurants with specialties ranging from fine dining to budget meals dot the busy landscape.
Café Ten Titas: If you feel the pangs of hunger while you're at the Araneta Center, nab a seat at Café Ten Titas located on the 3rd Floor of the Gateway Mall. The name derives from the ten aunts of Chef Florabel Co who co-owns the place with Marvin Agustin, an award-winning Filipino actor. For about P220.00 you can sink your teeth on its Bangus Belly Ala Kiev drenched in melting smoke-flavored ooze of cheddar cheese. And, if you are lucky enough, you may even bump into the famous actor and invite him over at you table for a chat.
PenPen: If you're craving for Filipino comfort food and you happen to be cruising along the Tomas Morato tourist strip from E. Rodriguez Avenue, take a left turn at Castor Street and discover PenPen. This hole-in-the-wall eatery offers quick and filling meals that won't even dent your wallet. This homey joint is owned by Chupsie Medina who runs it with the help of her son, Ping Medina, an indie film actor and son of veteran actor Pen Medina. For only P75.00, you can try one of its gourmet-cooked dishes like the saucy and thick Bicol Express laden with pork chunks and chili serve with steaming rice.
Gerry's Grill: If you and your buddies would like to grab a bite to eat before checking out the Eastwood night life, you may want to step into Gerry's Grill located along C-5 Road right in front of the Eastwood City entrance. The grub is good, complemented by the sporty, outdoor ambiance of the place reminiscent of an outdoor resort. You've never really been to Gerry's unless you tried its well-known Grilled Squid, Crispy Tadyang or the more exotic Ginataang Kuhol.
Where to Stay in Quezon City
There are dozens of hotels spread out in the city, but the following mid-range priced accomodations are conveniently located and accesible to commercial and tourist areas:
Sulo Hotel: Located along Matalino Road in Diliman, this well-known hotel has five-star refinements and rates start at USD 53.00, or P2,120.00 converted at current exchange rates. Its basic amenities are a swimming pool and spa, room airconditioning, ref, telephone, cable/satellite TV, maid service, coffee maker and free newspapers.
The Garden Heights Condotel: Located at 269 E. Rodriguez Avenue a short walk from the Saint Luke's Medical Center and Trinity College, this imposing structure dominates the skyline and offers a majectic view of Metro Manila. A short distance away is the Tomas Morato-Timog-West Avenue Tourist Belt. With rooms rates starting at USD48.00, or P1,920.00 converted at current exchange rates, guests will enjoy airconditioned rooms with complete kitchen, dining and living room facilities, cable TV, hot and cold water, IDD telephone and daily housekeeping service.
Kabayan Hotel: Conveniently located at Saint Mary Street corner Aurora Boulevard in Cubao District within spitting distance from the bustling Araneta Center. Room rates start at USD43.00, or P1,720.00 converted at current exchange rates and guests enjoy basic amenities like queen-sized and 1 single bed, airconditioning, mini-bar, TV, telephone, bedside control panel, private toilet and bath, hot and cold water.
How to Get to Quezon City
Manila to Quezon City and Back: There are two approaches to Quezon City from Manila City Hall. The first is through the Magsaysay Avenue-Aurora Boulevard route via Ayala Bridge and the second is through the Quezon Boulevard-Espana-E. Rodriguez Avenue route via Quiapo Bridge. The modes of transportation plying both routes are buses, jeepneys and cabs. A portion of the Magsaysay Ave.-Aurora Blvd. route is serviced by the Metro Rail Transit system starting from the Legarda Street-C.Recto Avenue junction in Manila all the way up to the Cubao MRT Station.
Cebu to Quezon City and Back: To reach Quezon City from Cebu, you can either fly or sail from Cebu to Manila then take a bus or cab to Quezon City. Approximate cost of a round trip plane ticket is P6,000.00 – P7,000.00 while a round trip boat fare is about P3,000.00 – P4,000.00. After you disembark at the Manila Domestic Airport or Pier area, you can take a cab, which will cost about P200.00 to P300.00 (one way). If you are not in a hurry, from your point of disembarkation, you can hop on a bus, jeepney or MRT which will take you to Quezon City for less than P30.00 (one way).
Dumaguete to Quezon City and Back: To reach Quezon City from Dumaguete, you can fly from Dumaguete to Manila then take a bus or cab to Quezon City. Approximate cost of a round trip plane ticket is P4,000.00 – P5,000.00. After you disembark at the Manila Domestic Airport, you can take a cab to Quezon City, which will cost about P200.00 to P300.00 (one way). But if you have less money and more time to spend, you can hop on a bus, jeepney or MRT which will take you to Quezon City for less than P30.00 (one way).