Dapitan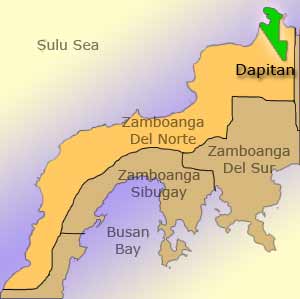 Following his defeat in 1563 in the hands of the Ternatans, Datu Pagbuaya and some 800 of his followers left his kingdom in Panglao, Bohol and sailed across the seas. Upon reaching Northern Mindanao, its beautiful bay so enticed them that they felt invited, or "gitapit," to settle on the wooded plains on the northeastern part of the bay near the Ilihan Hill. They named their settlement Dapitan, after the Visayan word "dapit," which means "invited," loosely referring to their exiled situation as an "invited people." Dapitan became a flourishing settlement with Datu Pagbuaya as its first chieftain.
Dapitan is a 21,500-hectare mass of land on the Zamboanga Peninsula that lies on the northwestern coast of Mindanao 14 kilometers from Dipolog City. It is bounded on the east by the municipalities of Sibutad and Rizal; on the west by the municipality of Polanco and Dipolog City; on the south by the municipalities of La libertad and Mutia; and, on the north by the Sulu Sea. w
By the time Miguel Lopez de Legaspi and some Agustinian friars arrived in 1595 to convert its inhabitants to Christianity, Dapitan was already a thriving settlement. Some of the early converts were Datu Pagbuaya's son, Pedro Manooc and grand daughter Maria Uray. But aside from Zamboanga, Iligan, Butuan and Dapitan, the island of Mindanao remained largely untouched by the Cross.
Dapitan rose from the settlement of a people exiled from their fallen kingdom in Bohol. And, it was also here where Dr. Jose Rizal was fortuitously exiled by the Spanish colonists for four years from 1892 to 1896. In this remote town, the Philippine National Hero lived a simple, uneventful but fruitful existence that enriched his life and the remote town whose lives he touched. Here, he practiced medicine, continued his artistic and literary works, pursued scientific studies, widened his knowledge of the languages, promoted community development projects using a brick-making machine that he invented, established a school for boys and engaged in commerce and farming on agricultural lands that he purchased along the coast of Talisay a kilometer away from Dapitan.
Republic Act 3811 promulgated on June 22, 1963 made Dapitan the first city in Zamboanga del Norte. For his profound contributions to his city of exile and to its residents that so endeared the National Hero to their hearts, Talisay was declared on January 24, 1973 by Presidential Decree No. 105 as Rizal Shrine and Dapitan was subsequently recognized as the "Shrine City of the Philippines."
What to See in Dapitan
While historic spots never fail to draw tourists, Dapitan City is an attraction by itself with its clean, beautiful barangays and wide expanse of beaches. The spectacular sunsets and clear waters of Dapitan Bay and the white sand beaches and rich aquatic resources of Aliguay and Sinulog Islands which are respectively 10 and 14 kilometers from Tag-olo Point beckon to the Nature loving spirit of the visitor.
Rizal Shrine: This embraces the entire estate purchased by Dr. Rizal in Talisay out of his share in lotto winnings. The shrine features the houses, structures and improvements he has introduced on the land and includes as well a modern concrete building that houses an assortment of Rizaliana exhibits.
Ilihan Hill: Fort de Dapitan, a military fortress on top of Ilihan Hill overlooking Dapitan Bay was constructed by the Spaniards in 1762 to protect the flourishing settlements from foreign invasion. Relics of this ancient military fortress are still visible for the appreciation of tourists and visitors.
The City Plaza: Dr. Jose Rizal, with the assistance of Governor Ricardo Carcinero, developed and beautified this plaza patterned after the ones he saw in Europe using the P500.00 that an English patient paid him for restoring his eye sight.
Where to Eat in Dapitan
Visitors to this rising tourist center of Zamboanga will never find it difficult to look for places to eat because of the abundance of food establishments that offer the experience of dining the freshest meats and seafood "al fresco."
Corazon de Dapitan Restaurant & Delicacies: This is located along Justice F. Saguin Street in Barangay Potol. Grab one of the seats in this 50-seat open air restaurant and taste its pastries, Filipino dishes and other savory delicacies at a price range of P30.00 to P180.00.
Aplaya Vida Beach Resort & Restaurant: For a mid-range budget of P45.00 to P150.00, you can enjoy Filipino dishes and seafood delicacies "al fresco" along with many other tourists in this 100-seater open-air restaurant along Sunset Boulevard.
Kamayan sa Payag: For a super cheap price range of P3.50 to P50.00, the hungry budget traveler can have his fill of Filipino grilled food and other delicacies of this open-air 100-seat restaurant along Jose Rizal Street.
Where to Stay in Dapitan
Finding a good place to stay is never a problem in this Shrine City because a wide range of accommodations that fit the discriminating taste and budget of all types of visitors can be had at almost any time and day of the week.
Dapitan City Resort Hotel: Owned and run by the city government, this hotel faces a spectacular white sand beach with the South China Sea stretching out in the background as far as the eye could see. With rates starting at P1,650.00, visitors can enjoy standard rooms in this hotel that boasts of the latest in equipment and facilities.
Sunset Blvd, Dapitan City
Zamboanga del Norte
Tel. Nos.: (065) 213-6413/ (065) 213-6416
Fax Nos.: (065) 213-6542
Villa Pilar Pension: This 13-room pension house provides a double bed with television at a very reasonable rate of only P850.00 and with a good view of the South China Sea to boot.
Sunset Boulevard, Dapitan City
Zamboamga del Norte
Tel. No.: +(63) (65) 213-6579
Aplaya Vida Lodge: Budget travelers and backpackers will definitely find this lodge by the sea safe and comfortable. Its air conditioned rooms are a steal at P390.00 per night.
Sunset Boulevard, Dapitan City
Zamboanga del Norte
Tel. Nos.: +(63) (65) 213-6498/ (0916) 353-2079
How to Get to Dapitan
Manila to Dapitan and Back: The fastest way to get to Dapitan from Manila is by plane via Dipolog City which is just 14 kilometers away. Philippine Airlines and Cebu Pacific have daily flights bound for Dipolog. Approximate cost of a one way air fare is P4,000.00 and travel time is about 70 minutes.
Cebu to Dapitan and Back: The most economical way to reach Dapitan from Cebu is by sea craft. Oceanjet fast craft leaves Cebu daily via Tagbilaran at 6:00 AM. One-way boat fare costs about P1,100.00 and travel time is approximately 6 hours.
Dumaguete to Dapitan and Back: Oceanjet fast craft leaves Dumaguete daily at 10:00 AM bound for Dapitan. One-way boat fare is approximately P530.00 and travel time is about 2 hours.