In the heart of central Visayas located southeast of Cebu and southwest of Leyte is the charming island province of Bohol. It is made up of 47 towns, its capital being Tagbilaran City — the total land area reaches up to 411,700 hectares which includes connecting islets making it the 10th largest island in the country. The province is distinctly oval in its shape, and can easily be detected in the Philippine map, is shaped like a purple yam (camote or ube in the local dialect), a traditional Filipino root crop which also happens to be part of the agricultural industry of Bohol.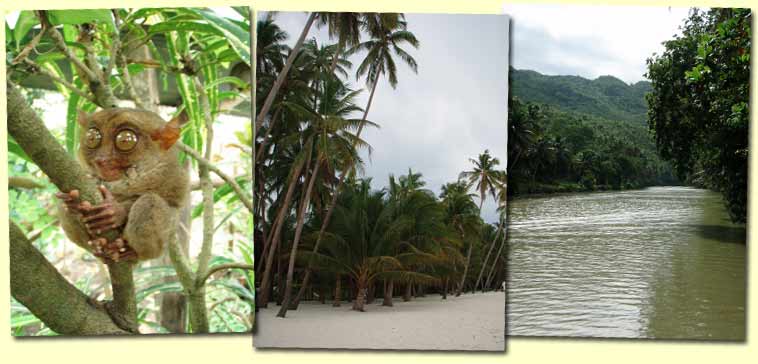 For the history buffs, Bohol was a venue for an international peace treaty known as the Blood Compact between the island's chieftain Datu Sikatuna and the Spanish conquistador Miguel Lopez de Legazpi. They each slit their forearms and collected the blood in one cup before mixing it and sipping from the said cup. It was here that the ties of friendship were sealed in a pledge of peace and cooperation. Bohol is also the home of the country's fourth president of the republic, Carlos P. Garcia.
Many people love to refer to Bohol as "God's little paradise" because of its alluring simple and unspoilt tropical island ambience.
The world famous Chocolate Hills and the equally famous Tarsier monkeys are perhaps what will immediately come to mind when speaking of Bohol. The Chocolate Hills are an amazing 1001 naturally perfected cones, garnering the title as one of the country's natural wonders. On the other hand, the Tarsier Monkey – a tiny (size smaller than a regular fist) primate with huge round eyes who primarily feeds on insects is also one of the many tourist attractions. Experts have named the Tarsier the oldest and smallest living mammal today.
For the beach lovers, the sandy white beaches and clean ocean waters are in itself a lure to divers, tourists and vacationists. For the divers, Balicasag Marine Reserve, home to the world's rarest Gloria Maris and Golden Cowry shells, is also a must see. Bohol also has an abundance of waterfalls and tropical rainforests, stalactite and stalagmite caves, old buildings and churches, and natural parks. Delicacies only known to Bohol are the favorite Calamayhati which is a gluey coconut candy mixture sealed in a hard coconut shell.
Panglao Island has recently been declared as the first tourism estate in the country, responsible for raking in many investors and giving Bohol province an economic boost. Panglao is fast gaining recognition as the second Boracay, with a number of beach resorts, restaurants and bars lined up along its coastline.
[summary-child-pages]