There are many websites available for you to read about aspects of either visiting as a tourist or living in Dumaguete. So, why should you choose Dumaguete Info? Well, there's one basic reason why it's been helping visitors to Dumaguete for the past twelve years. It's a darned good site! It's also because on this site you will find comprehensive and objective information covering a wide range of interests, often written by ex-pats. There's also a forum where thousands of members help one another regarding a variety of issues.
The site has classified advertisements covering a broad number of products and homes for sale. Dumaguete Metro Post columnist Michael O'Riordan's column 'Outside Looking In' provides an ex-pat's view on life in Dumaguete and in the Philippines.
This site has reviews by ex-pats of hotels and restaurants, bars and night clubs, professional services, classified advertisements, business reviews, tourist attractions to consider visiting.
There is no other site discussing Dumaguete that has such a diverse range of topics and comprehensive information you need to know in order to best enjoy your Dumaguete experience. So, let's continue on your Dumaguete journey. Regardless of whether you want adventure or quiet trail hikes, you will find it all, and more, on Dumaguete Info
It's not by chance Dumaguete has, for several years, been recognized as the premiere retirement and tourist destination in the Philippine archipelago. That's a remarkable achievement. So, what is it that made Forbes magazine and the Philippine Retirement Authority identify Dumaguete as one of the top retirement destinations to retire? Why has Dumaguete become such a favorite destination for foreign tourists and the emerging Filipino middle class? There are many reasons. We will now discuss some of them.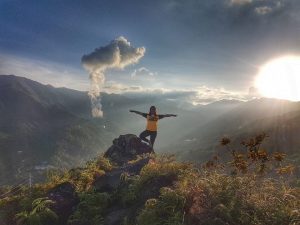 Ideally located, when looking from Rizal Boulevard, Dumaguete faces the sea with Apo and Cebu islands to the left, then Siquijor shimmering in the distance on the right. High above and behind Dumaguete city, towers the magnificent Mount Talainis which is the second highest mountain in Negros Oriental. Mount Talainis has many treasures that reveal themselves to the casual hiker or the adventurous mountain climber. Out in front of the boulevard, the East Bohol sea and Tanon Strait possess an abundance of maritime treasures. Apo island is a world-renowned sanctuary that encourages visitors to walk contentedly along trials rich with a multitude of diverse flowers and plants life. Down below in the sea, conscious of the privilege, people swim respectfully with whale sharks and giant turtles. Further over in the Dauin area is one of the best snorkeling areas in the entire Philippines.
An interesting aspect for tourists is the low cost for experiencing Dumaguete. Visitors, especially those from North America and Europe, are surprised at the significant difference in overall pricing. For example, rentals and hotels are inexpensive, as are food supplies such as meats, fish, and fresh vegetables. Farmers markets provide fresh produce several days each week from Dumaguete to Valencia and across to Bacong and Dauin.
It's challenging to find a city in the Philippines with such diversity of people and activities. It's a strong university and college down with four universities and several colleges. These create a dynamic vibrancy. Youthful energy and creativity move effortlessly throughout the city while also offering a multitude of creative activities to visitors.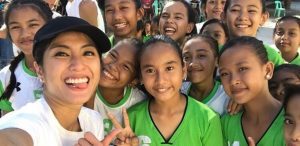 Perhaps the most prized component to the magic of Dumaguete is its people, the locals who unreservedly invite foreigners into their lives and hearts. Some foreigners used think the patriot Rizal's statement about Dumaguete being the city of gentle people was perhaps a tourist board slogan. Its anything but that. Locals have a warmth that's unlikely to be found elsewhere. It's rare to see any uneasiness or angry behavior from locals. They consider that ridiculous, and also bad manners. They believe anger is a form of madness, as indeed it is. And they don't care what your nationality is, or what your governments behavior is, even if its offensive to the Philippines. They view every foreigner solely based on their interaction with him or her. If only the rest of the world possessed such wisdom and generosity of spirit!
There's also information on real estate on Dumaguete Info in case you are considering buying a vacation home. Many foreigners buy a home here, come and visit for a month, then earn significant income by renting out their property for the remainder of the year.
Tourism is one of Dumaguete's biggest sources of income. Some of the attractions include one of the best dive sites in the Philippines, the sanctuary at Apo island where people swim with whale sharks and giant turtles, to Casaroro located above Valencia, with its delightful waterfalls under which people like to swim or float gently on the swell created by the water cascading down after first exploding from high above.
As briefly mentioned earlier, there's a broad range of information and services on the Dumaguete Info web site you won't find elsewhere. On this site you will gain valuable insights into the experience of ex-pats who have been living here for a short or a long time. They will discuss restaurants to eat at, bars and nightclubs to visit, and hotels you may want to consider staying at, and, perhaps most importantly, where not to eat or stay.
The Dumaguete Info website includes conversations between ex-pats about a wide range of issues, happenings and events. This provides anyone visiting the website with more valuable insights not available elsewhere.
There's no need to continue extolling the virtues of the Dumaguete Info web site. The difference between this and other websites is similar to night and day. So, why stumble awkwardly in darkness, when you can stride confidently in the sunlight provided by Dumaguete Info?