Tagaytay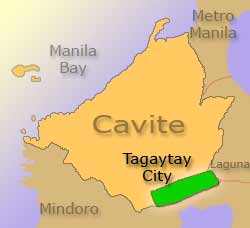 The crisp cool air blowing in from the sea that greets you as you step out of your vehicle is a welcomed and exciting prelude to the spectacular views that you will most likely never see elsewhere in the world. Perched on the highest point of Cavite Province 2,500 feet above sea level, Tagaytay is some 56 kilometers south of Manila overlooking Taal Volcano and Taal Lake on the south, Manila Bay on the north and Laguna de Bay on the east.
Tourism is one of Tagaytay City's pillars of growth. Because of its proximity to the National Capital Region, it presents the perfect getaway for urbanites seeking respite from the pressures of work, and to momentarily escape the sweltering heat of Metro Manila. The cool weather, foggy evenings and early morning mists that perk up the fresh unpolluted air and the lush greenery framed against the gentle rolling slopes present a simple rustic appeal conducive to meditation and contemplation. Because of this, Tagaytay is a renowned "Center for Spiritual Retreat" because of the numerous training seminars, conventions and retreats that are regularly held in the more than 60 religious convents, seminaries, congregational houses, retreat and convention centers in the city.
Tagaytay City in the Province of Cavite has always been associated with Taal Volcano which is located about 20 kilometers away in the Province of Batangas. This association is not attributed to their proximity to each other, but rather on the visibility of one to the other. Because of its geographical orientation, height and location, Tagaytay gives the best perspective and spectacular view of the world's smallest but most temperamental volcano as it sits on the placid Taal Lake. The lake is an enigma by itself because it is a lake within an island within a lake. On a clear day, your eyes would be able to see as far north as Manila Bay and discern the outlines of Laguna de Bay on the east. At night, you would see pinpoints of lights coming from fishing boats on the lake down below giving an illusion of an upside down starry sky.
During the Philippine Revolutionary War for Independence in 1896, the dense forest covered ridges of Tagaytay served as a secret route for Katipunan freedom fighters crossing from Cavite and the northern provinces into Batangas and Laguna and vice versa. In the last days of the Pacific War, US 11th Airborne and 8th Army paratroopers were air dropped in the very same area to meet up with Filipino guerillas and launch the pincer offensive for the liberation of Manila. This secret forest ridge passage of Tagaytay that facilitated travel to and from the northern and southern provinces was termed in Tagalog as "mananagaytay," which means "to traverse the ridges."
What to See and Do in Tagaytay
The first order of the day for visitors upon arriving in Tagaytay is to admire the magnificent view of the world famous volcano. Many hotels, restaurants, coffee shops, bars and picnic grooves with a good panoramic view of Taal Volcano line the Tagaytay ridge. But other than that, the city also offers other attractions such as religious and historic sites that are more or less similar to what you have already seen in other parts of the country. The city offers other activities to the Nature lover, quite unlike what you would find in other cities outside Tagaytay.
Ilog Maria Bee Farm: This place is the most famous bee farm in the country where you would re-learn the little things that you have always taken for granted—like how busy little bees make the delicious honey that sweetens your brewed coffee or spread on your breakfast pancake. The bee farm features a small shop where you could purchase bottles of honey at very reasonable prices as well as scented candles and other souvenir items.
Tagaytay Flower Farms and Pineapple Plantations: Your visit to this unique cool city will never be complete unless you see the interesting flower farms that line the Tagaytay ridge. The bustling cut flower industry of Tagaytay supply the flower needs of Metro Manila and give Baguio City a run for its money in so far as cut flowers are concerned. The cool weather, abundant rainfall and well-drained topographical features of Tagaytay provide excellent conditions for the extensive cultivation of sweet juicy pineapples. Make a detour to one of these plantations and see vast stretches of pineapples that rival those you would find in Hawaii.
Roadside Fruit Stalls: On your way back to Manila, do not forget to stop at the fruit stalls that line the highway a short distance from the Tagaytay rotunda and buy reasonably priced tropical fruits that are not readily available in Metro Manila. Here, you can gorge on mangoes, pineapple and sweet chiquita bananas without having to worry about how to lose weight after your vacation.
Where to Eat in Tagaytay
Leslie's: One of the favorite spots in Tagaytay is this restaurant that offers superb Filipino food that goes quite well with the ambiance and magnificent view of Taal Volcano. A stringed quartet goes around the tables to serenade diners enjoying the food and scenery. Try its tanigue hot off the grill, steaming bulalo soup and fresh coconut juice served on the shell–but be sure to quickly chow these down because the cool winds blowing in from the wide veranda on the overlooking ridge will cool down your food pretty fast.
Viewsite Restaurant: Offers a nice view of Taal Volcano and Taal Lake which complement its delicious but affordable food. An acoustic group that also goes around renders your most favorite requested songs. Especially recommended are its fried and crunchy tawilis, tender bulalo steak, salted eggs and grilled eggplants.
Gourmet Farm and Café: Take a guided tour around a huge vegetable farm that grows healthy organic vegetables just a short distance from Tagaytay. If you want a taste of freshly harvested organic veggies, step into the Gourmet Café located in the building standing right in front of the farm. Start out with a heaping plate of fresh healthy salad to perk up your appetite for the different food recipes on the menu.
Where to Stay in Tagaytay
Royal Taal Inn: This hotel offers outstanding bargain for all the modern conveniences and exhilarating views. All rooms have their own private balcony and sitting area and were specifically designed have wide windows to better give a spectacular view of Taal Volcano. Standard rooms feature air conditioning, IDD/NDD telephone, private toilet and bath, satellite TV–and for only P1,950.00, you can have all these for the night.
Calamba Road
Barangay Iruhin Central
Tagaytay City
Tel. No.: (+6346) 413-1335; (046) 435-1066
Email: info@royaltaal.com
Tagaytay Country Hotel: Tucked away in the lush green Tagaytay countryside, this excellently appointed hotel offers all the comforts of your home away from home. For starting rates of P3,000.00, standard rooms feature air conditioning just in case the misty evening breeze is still not enough to cool you off during those extra warm summer nights, cable TV, a mini bar, IDD/NDD telephone, and hot and cold shower.
http://www.tagaytaycountryhotel.com
Olivarez Plaza
E. Aguinaldo Hi-way
Tagaytay City
Email: info@tagaytaycountryhotel.com
Taal Vista Lodge Hotel: If you want to splurge on a 5-star luxury hotel in the heart of Tagaytay, then this place is right for you. All rooms have standard cable TV; IDD/NDD telephone; in-room vault; coffee/ tea maker; mini bar; a spectacular view of Taal Volcano and verdant gardens. Room rates start at a hefty P6,500.00 per night.
Website: http://www.taalvistahotel.com/
Km. 60, Aguinaldo Hi-Way
Tagaytay City
Tel. No.: (632) 886-4325; (6346) 413-1000
How to Get to Tagaytay
Manila to Cavite and Back: Tagaytay is about an hour and a half drive from Manila via the Coastal Road. Crow buses at Makati and BLTB buses at Pasay terminal station bound for Tagaytay, Nasugbu or Balayan in Batangas will take you to Tagaytay City. Estimated one way bus fare is P100.00 – P150.00. However, a safer and more convenient way to travel to Tagaytay and see its sights is to hire a van or mini SUVs called "FX" for P2,000.00 to P2,500.00 inclusive of driver, gasoline and tolls. At this rate, you will have the vehicle all for yourself the whole day. If you need to stay in the city for the night, the rate goes down to P1,000.00 for each succeeding day depending on how well you can haggle with the vehicle owner.
Cebu to Tagaytay and Back: To reach Tagaytay from Cebu, you can either fly from Cebu to the Manila Domestic Airport in Pasay or ride a ferry from Cebu to Manila. The cost of a round trip plane ticket is approximately P4,000.00 while a boat fare would cost about P3,000.00 – P4,000.00 round trip. Upon arrival, choose any of the two options above to get to Tagaytay from Manila.
Dumaguete to Tagaytay and Back: To reach Tagaytay from Dumaguete, you can fly from Dumaguete to the Manila Domestic Airport in Pasay City. Approximate cost of a round trip plane ticket is P4,000.00 – P5,000.00. Upon arrival, choose any of the two options mentioned above to get to Tagaytay from Manila.