Caloocan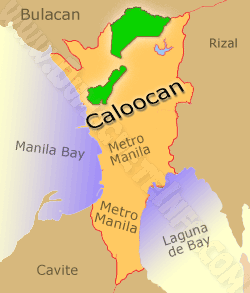 Tucked in the corner, which is called "sulok" or "lo-ok" in the vernacular, where the ends of the old towns of Tondo and Malabon meet is a small barrio that used to be called by the Spanish colonialists as Aromahan. In 1765, the Augustinians established the first Catholic church in this barrio that eventually grew into a town in 1815 called Caloocan, aptly describing its geographic corner location at that time. Almost two hundred years later, this little town has grown into a 5,333-hectare metropolis that comprises one of the densely populated and highly urbanized cities in Metro Manila.
Two areas compose this city: Southern Caloocan lies north of the City of Manila and is bordered by Valenzuela and Malabon cities to the north; Quezon City to the east and Navotas to the west. The northern portion on the other hand, is the outer fringes of Metro Manila and lies north of Quezon City, east of Valenzuela City and south of San Jose del Monte City in the Province of Bulacan.
History would have been different today without this historic place which bore one of the country's most prominent and foremost heroes—Andres Bonifacio, the founder and Supremo of the Katipunan. It was here that the Great Plebeian founded his secret society of Filipino patriots. And it was here that the Katipunan army first fought the Spanish colonialists in a battle that was later to spread like wildfire throughout the country and become a full blown Philippine revolutionary war for independence from Spain. The thick foliage, crags and hills that once provided a safe haven to Filipino freedom fighters have largely given way to residential communities and industrial complexes. The city's economic engine of growth is what makes Caloocan a continuing work in progress.
What to See in Caloocan
Caloocan is not quite like other cities in the country, or at least in Metro Manila. From wilderness, it had risen to become a manufacturing and residential suburb that provides employment and shelter to its burgeoning population. As is commonly experienced with many rapidly developing local economies, progress comes with a price—one of which is unmitigated and unplanned urban sprawl. Nonetheless, vestiges of the city's heroic past and a few pockets of nature reserves and entertainment resorts are there for the taking and enjoyment of the visitor, such as:
The Bonifacio Monument: This well-known Metro Manila landmark is located at the northern terminal point of the Epifanio de los Santos Avenue (EDSA) where it meets Rizal Avenue forming an area that is popularly called "Monumento area" This structure is a fitting tribute to Andres Bonifacio and the Katipunan patriots. It also commemorates the first battle between the Katipunan and Spanish Guardia Civil that took place in the city on August 3, 1896 and eventually sparked a nationwide Philippine revolutionary war. The patriotic fervor then sweeping the country, which inspired the national struggle for independence, was immortalized in stone in 1933 by the great Filipino sculptor and national artist, Guillermo Tolentino.
 
Gubat sa Ciudad Resort: Literally translated as "Forest in the City Resort," this tranquil leisurely piece of space in the busy metropolis is located in Bagumbong. This resort offers great fun for family and company outings, camp outs, retreats, birthdays and other special events. It features, air conditioned cottages, a pavilion, sports facilities and a playground and tree houses to keep the young ones busy. For guests who would like to take a brief respite from the sweltering heat, the resort offers swimming pools of different sizes with matching water slides.
Horace Higgins Hall—Philippine National Railways: If you are a history buff who loves to see heritage sites in their unaltered state, then you may want to visit this structure located at the corner of M. Hizon and C. Apostol Streets. This site served as a railway station for the city when the Manila-Dagupan line was opened on November 23, 1892 and connected Caloocan with the rest of Manila and other towns all the way up to Dagupan City in Pangasinan. This structure, whose design bears foreign architectural influence, is all that remained when the old rail system was scuttled many decades ago.
 
Where to Eat in Caloocan
You won't have any difficulty looking for a place in the city where you can grab a bite to eat. Fast food chains and eateries abound in Caloocan just like any city in Metro Manila. But if you are yearning for a good, hearty meal at affordable cost, you can check out the following restaurants:
Orient Pearl Seafoods & Restaurant: Located at 181 Macario Asistio, Sr corner A. Del Mundo Streets, this restaurant is open daily from 10 AM to 10 PM and features Chinese and Filipino cuisine and serves seafood as specialty of the house.
Max's Restaurant: A few blocks up the road at 261 Delfina Building, Macario Asistio, Sr corner Baltazar Streets, you will find this famous "House that Fried Chicken Built." Aside from its yummy chicken specialty, you can also find a wide choice of Filipino and international dishes on its menu.
Barrio Fiesta Restaurant: Another famous well-known restaurant whose fiesta theme and festival dishes can be located at 487 EDSA, Barangay 087, District 11 in Palanan, Caloocan. Available at reasonable prices are its Filipino, Asian and seafood cuisine.
Where to Stay in Caloocan
Unlike other cities in Metro Manila that cater to local and foreign visitors, the city of Caloocan does not have much hotel accommodations that might be of significant interest to tourists–save for one. A wide variety of accommodations may, however, be found in the adjacent City of Manila and Quezon City. But if you wish to obtain hotel accommodations right in the heart of Caloocan City, you may wish to try out:
Kabayan Hotel Caloocan: Provides first class comfort in well-appointed accommodations designed to suit even the most discriminating taste. For surprisingly low rates which start at USD16.00, or P640.00 converted at prevailing forex rates, guests will enjoy air conditioned rooms, cable TV, internet connectivity and private toilet and bath.
Website: http://www.kabayanhotel.com.ph/
535 Caimito Road corner McArthur Highway
Caloocan City (near Monumento)
Tel. Nos. (+632) 361-7454; 362-4678; 362-1298
How to Get to Caloocan
Manila to Caloocan and Back: The Light Rail Transit (LRT-1) is the fastest and cheapest way to get from Manila to Caloocan. From its station in Monumento, the LRT traverses the Rizal Avenue Ext. in Caloocan going to the City of Manila all the way up to Pasay City in less than thirty minutes for less than P30.00
Cebu to Caloocan and Back: To reach Caloocan from Cebu, you can either fly or sail from Cebu to Manila. Approximate cost of a round trip plane ticket is P4,000.00 – P5,000.00 while a round trip boat fare is approximately P3,000.00 – P4,000.00. If your point of disembarkation is the Manila Domestic Airport, you can take a cab or a bus from there to the LRT-1 station in Baclaran, Pasay City. The train will take you all the way to Monumento station in Caloocan for less than P30.00. The taxi fare from the airport is about P100.00 to P200.00 (one way), while the bus fare is less than P30.00 (one way). If your point of disembarkation is the Pier Area, you can take a jeepney or cab to the LRT-1 station in Avenida Rizal in Manila and board the train for Monumento. The taxi fare from the Pier Area to the LRT-1 station is about P100.00-P150.00, while the jeepney fare is cheaper at P7.50 (one way). The LRT train fare is less than P30.00.
Dumaguete to Caloocan and Back: To reach Caloocan from Dumaguete, you can fly from Dumaguete to Manila. Approximate cost of a round trip plane ticket is P4,000.00 – P5,000.00. From the Manila Domestic Airport, you can take a cab or a bus from there to the LRT-1 station in Baclaran, Pasay City and board the train to Monumento. The taxi fare from the airport is about P100.00 to P200.00 (one way), while the bus fare is less than P30.00 (one way). The LRT train fare is less than P30.00.