In terms of tourist attractions, the province of Bohol has indeed many to offer. Some call it the number one tourist destination in the Philippines because of its many natural resources –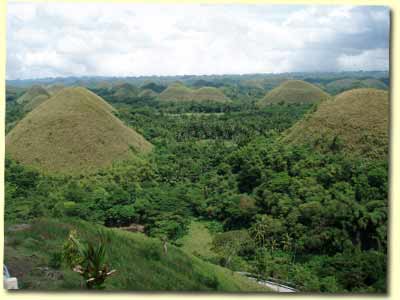 from the chocolate hills to the exotic wildlife, great diving and down to the refreshing calm beaches of Panglao Island.
Bohol has sufficient hotel accommodations for all businessmen and travelers. All around the province is a collection of 7 big hotels, 34 lodging houses or pension houses and most interestingly, 29 beach resorts. Not only that, Bohol is also equipped with diving center facilities ranging from the expensive ones to the simple instruction programs found in almost all beach resorts. There are also shopping and recreational areas — for antique lovers, Bohol is an ideal place to do some treasure hunting for rare one of a kind pieces. It is dotted by many antique shops whose locations are always known by van drivers and the locals. In the finance and banking sector, 45 notable institutions have their doors opened for investments and finance.
Local and foreign investments are also regulated under the Letter of Instruction No. 75 issued in the year 1973. Found in the letter are specific guidelines for projects and investments in the tourism sector. Proclamation No. 1801 on the other hand declares the islands of Panglao, Balicasag, and Cabilao as certified tourist zones apart from the Bohol Chocolate Hills and the rest.
Tarsier Monkeys
The rare Tarsier monkey can be found up in the hills of the town of Corella. Its natural environment provides a conducive breeding ground for the primate. It is indeed the smallest primate in the world measuring only four to five inches and having a tail that is longer than its body. It stares at you with big bulging eyes, in a rather outlandish fashion. One can purchase Tarsier monkey souvenir dolls at the zoo premises.
Perhaps the best attraction of Bohol is its beautiful coastline — many are drawn in by the white sand beaches and a rather enticing marine underwater activity. Some of the Visayas region's most popular dive sites can be found here, specifically in the island of Balicasag where one can discover the black coral reef forest. In Cabilao Island an encounter with a hammerhead shark shoaling around the clear sea and a school of dolphins playing about are common happenings.
Centuries old buildings and churches, bell towers, diving sanctuaries, exquisite waterfalls, unexplored caves, many historical landmarks, a striking collection of flora and fauna and its gleaming white sand beaches are among the acclaimed tourist lures of Bohol. The Philippine government and the local Bohol administration are constantly developing and improving its tourism industry making it a potential investment hub in the country.