From its small beginnings, Forest Camp is now a fully operational mountain resort that has gained vast popularity. Located in Valencia Negros Oriental, it is only less than an 30 minute drive from Dumaguete City.
Forest Camp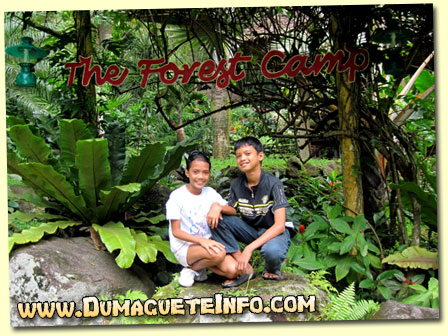 Before Forest Camp turned into a household name, it was simply just a private 2.3 hectare property that happened to be situated along the curb of the Banica River in the remote town of Valencia, Negros Oriental, 11.5 kilometers from the provincial capital Dumaguete City. Because of the naturally cool climate that the town of Valencia possesses and its verdant surroundings, it quickly became a favorite family weekend getaway.
Forest Camp History
Eventually word got around and soon enough acquaintances, even strangers would call to ask if they could visit the place. This prompted the Vicuñas to try their luck beginning with only a couple of huts where a family or a group of friends can picnic. From the profit, they built another two cottages and a utility kitchen. Florante and Melba Vicuña never thought that their property would unfold into a tourist destination and become a byword in the Negros Oriental tourism industry.
Together the couple managed and operated the camp. They cooked while their housemaids cleaned and served the guests. Before long, they have trained themselves to be efficient and gracious waitresses. Forest Camp was fast becoming popular. Visitors were coming in by droves to know and see the feel of being next to a waterfall and actually hearing the ripples of the water. In the middle of the camp is a hanging bridge connecting the reception area to the picnic ground.
Forest Camp Today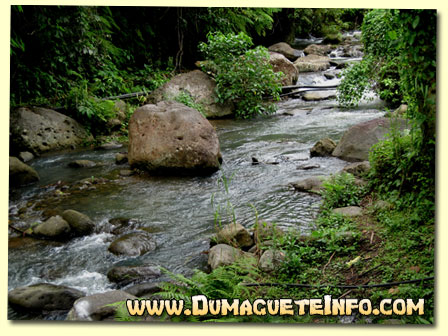 Today Forest Camp has four family cottages for guests who wish to spend the night, five small huts great for picnics, one function hall, two natural pools and a cascading waterfall and a beautiful landscaped garden.
Another natural pool is being excavated and an area cleared for construction of new huts. The Vicuñas call it "sustainable development" which means expansion using revenue from existing facilities.
To cut down on costs, all materials used to make up the cottages are bamboo and nipa – both inexpensive indigenous materials that can be sourced anywhere in the province.
Architecture has kept to the native feel – the huts are designed to resemble traditional Filipino houses. Rates begin at 350 Peso for a half day use of the hut.
How to get to Forest Camp
Valencia is only less than an hour's drive from Dumaguete City. The simplest way to get there is to hire a van and let the driver take you straight to Forest Camp.
Another way is to join a group tour or excursion usually organized by travel agencies and hotels. Finding this place is not at all difficult because of its popularity among the Dumagueteños.
With public transfer you take a Multicap towards Valencia. There you will take a trike to the Forest Camp. You may want to get the trike drivers cell-number that you can call him. Getting away from Forest Camp can be harder than finding it.
If you have your own vehicle you can drive all the way by yourself. The roads are in good conditions and you should have no problem to get there even after some rainy days.
Just take the Valencia Road passing Hypermart and continue the way up the hill. When you come to the very end of this road, take a right turn. After about 2km (past some public swimming ponds) you can see the camp on your left side. There is also a signboard pointing the direction to Forest Camp. You can see the entry to the parking space to your left hand.
The entrance fee is around 80.00 PHP for adults and kids. Inside are several cottages you can rent for the day. You surely will enjoy the day in the beautiful tropical surrounding at Forest Camp in Valencia.