Negros Oriental has a lot of historical and otherwise interesting sites to visit both as a tourist and as an local. so sightseeing in Negros Oriental is quite interesting whether you are interested in nature or history. I am more interested in nature myself and Negros Oriental has not disappointed me in that regard.
My favorite tourist spots / tourist things to do in Negros Oriental are probably whale and dolphin watching in Bais and snorkeling in Apo Island Marine Sanctuary.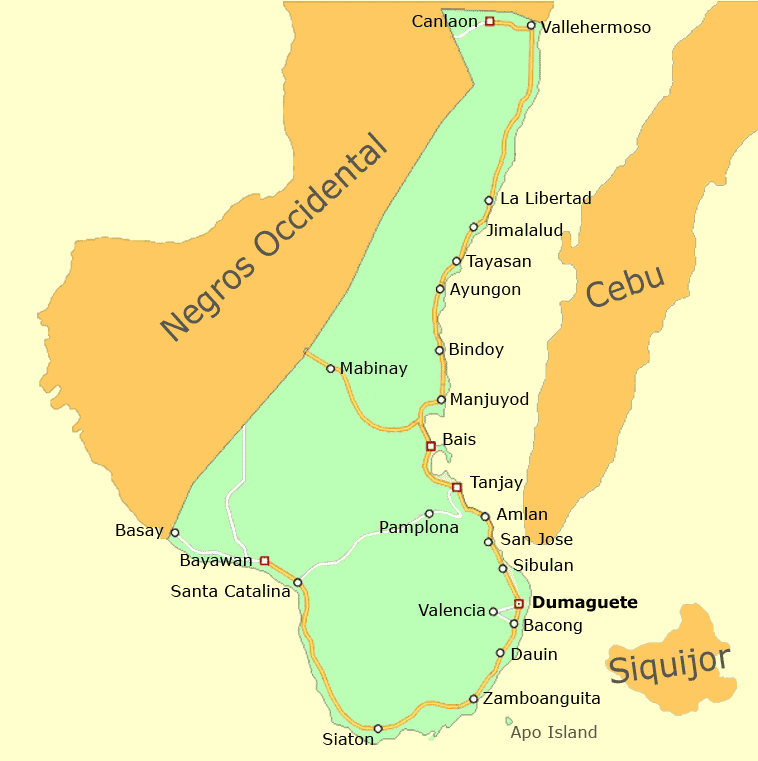 Wednesdays at Malatapay Market
In the municipality of Zamboangita, Barangay Maluay, is Malatapay Market — known for its beachside restaurants that cook the freshest seafood catch of your choice. They also have lechon (roast pig), grilled pork, and pork barbecue.
Malatapay is also famous for its tabo (or market day). The locals and other people from neighboring towns gather around in this spot every Wednesday to sell their fruits, vegetables, grains, livestock, and plastic wares from sun up till sundown. These vendors are all in healthy competition so haggle if you must.
Wednesdays at Malatapay are crammed full not only of people but of a variety of produce. It's busy and chaotic, but ultimately loads of fun.
More about Malatapay Market
Zoo Paradise of the World
Zamboangita, Negros Oriental
The Zamboanguita Zoo was heaven on earth for its late founder, Dr. Eleuterio V. Tropa, who always walked barefoot around his spread. He led a unique trail of conservation and environmentalism movements, had followers who obeyed as well as greatly revered him.
Less than an hour's drive from the Dumaguete City proper, this Zoo Paradise holds the collection of Fr. Tropa's memorabilia, stuffed wild animals including that of his huge pet orangutan and lion, and of course, live animals enclosed in perimeter fences or cages.
Surrounding the zoo are ipil ipil trees, known for their natural healing properties that the Fr. Tropa's followers still use for medicinal purposes. His descendants and supporters reside within the zoo's grounds even now.
More about Zoo Paradise of the World
Twin Lakes of Balinsasayao
Sibulan, Negros Oriental
Tucked away in the remote hills of Sibulan are the Twin Lakes of Negros namely Lake Balinsasayao and Lake Danao. A good 45-minute drive on a winding road will lead you up to the extensive rainforest ecosystem that surrounds the lakes.
This portion of Sibulan is said to be the home of a remarkable number of 180 species of trees, 113 of birds, 27 mammals and 49 reptiles and amphibians, making it deserving to be dubbed a Natural Park.
Activities like kayaking, horseback riding, and trekking can be done. They have picnic cottages, restrooms, snack shop, camping grounds, and a souvenir shop.
The serene, placid waters of the Twin Lakes make you gaze at it in awe. It emits an aura of being in a lost civilization – what with the sound of crickets and frogs that punctuate your every sentence.
More about The Twin Lakes of Balinsasayao
Bais City
Dolphin and Whale Watching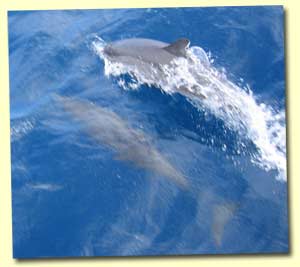 The Bais City Tourism Council generally oversees and organizes the tours. The cruises take you out to Tañon Strait, the natural habitat of dolphins and pygmy sperm whales.
Out in the sea, the boat comes to a stop and the guests are told to clap their hands or whistle to encourage the dolphins to play. True enough, you could view them leaping in the air in pairs or groups. Children can only squeal in delight. Meanwhile, the whales prefer to emerge when it is calm and quiet.
The dolphin and whale watching package tour usually comes with lunch consisting of seafood and traditional Filipino dishes. It is served right on the boat for that unique, worthwhile experience. If you plan your own trip and rent a boat from for your dolphni and whale wathing trip on the pier in Bais, then make surer you have packed a lunch and plenty of drinks. for lunch you can bring fish and meat and have the boat crew BBQ it for you while you swim and enjoy the sun.
More about dolpin and whale watching in Bais
Central Azucarera de Bais
Bais City, Negros Oriental
Central Azucarera de Bais was the first sugar mill of the Compania General de Tabacos de Filipinas SA (or Tabacalera) in the Philippines. Established early in the year 1918, it became the gateway for the province's sugar industry. Up until the present, CAB continues to be fully operational.
The CAB staff houses are reminiscent of the Spanish culture. The architecture is greatly influenced by it, a standing memory of a bygone era.
More about Central Azucarera de Bais
Bird Sanctuary and Mangrove Park
Bais City, Negros Oriental
A short boat ride and a walk through bamboo pathways are all it takes to reach this park.
This protected sanctuary is inhabited by a diverse collection of bird species and other wildlife. Here, they continue to nest and propagate amid a 400 hectare mangrove forest.
Negros Oriental is a province laden with natural resources. It is blessed with an exquisite blend of both land and sea bounties, making it a sought after vacation spot and eventually, a place of residence.
More about the Bird Sanctuary and Mangrove Park in Bais City
Manjuyod White Sand Bar
Manjuyod, Negros Oriental
During low tide, a 7-kilometer stretch of pristine white sand seems to float right in the midst of Bais Bay's sparkling blue waters. Known among the locals as White Sand, this strip of beach is a popular destination for families on vacation. It is also a stopover point for dolphin and whale watching cruises of Bais City because of its proximity to Tañon Strait.
There are several cottages dotting the strip, all of which look like pretty little houses on stilts. This is so because during high tide, the water could rise up to its floors. They can be rented for the day or for overnight stays.
More about the Manjuyod White Sand Bar – Bais City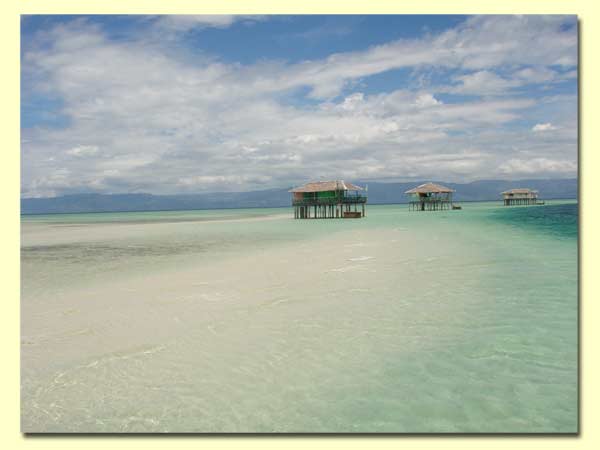 Sand Bar in Bais
Mabinay Caves
Mabinay, Negros Oriental
Approximately 87 miles northwest of Dumaguete City, Mabinay has a hilly and rugged terrain. It takes about 2 hours travel by bus.
Mabinay has a total of 22 caves. The most popular ones are Pangligawan Cave in Barangay Lamdas; Pandalihan Cave and Mambajo Cave in Barangay Paniabonan & Crystal Cave in Barangay Bulwang. The Odloman Cave, one of the longest caves in the Philippines is also found in Mabinay. It was discovered by a team of 15 Dutch explorers.
These caves have very interesting rock formations and have been deemed safe by both local and foreign enthusiasts. Cave guides can be hired for as little as a thousand pesos a day.
More about the Mabinay Caves
Tirambulo Highland Resort
Mabinay, Negros Oriental
The Tirambulo Highland Resort is nestled in Barangay Paniabonan in the town of Mabinay. It is an extensive spread of grass and thick rows of trees with a giant man-made lake in the middle of it and 6 other smaller ones around the resort. Surrounding the lake are several fishing spots where you can actually throw in your hook for some freshwater catch. There also is a camping area and a conference hall. They also arrange for cave tours.
They have native cottages for rent ranging from P800 for double occupancy; P1400 for four and P1500 for seven. The restaurant serves authentic Filipino dishes and delicacies.
More about Tirambulo Highland Resort
Pamplona Golf and Country Club
Pamplona, Negros Oriental
Only an hour's drive from Dumaguete City, Pamplona Golf and Country Club is an 18-hole golf course in the midst of a lush coconut plantation. With all basic amenities such as a clubhouse that serves snacks and refreshments, golf carts for rent at P600 per round, 3 cottages rent with a minimal daily rate, caddies and umbrella girls that you can hire for the day, and a pro for quick lessons.
Pamplona Golf and Country Club has well kept greens and fairways, hosting at least 3 golf tournaments in one year.
More about Pamplona Golf and Country Club
Lake Balanan
Siaton, Negros Oriental
An unspoilt natural beauty that has been preserved by time, Lake Balanan is nestled between the mountains of Siaton. At present, development projects are ongoing at the site. In addition to a restaurant, a few cottages and a swimming pool, a guest inn is being constructed for those who might want to stay for a day or two.
Activities include taking a banca ride, fishing, camping or simply having a picnic for the day. Lake Balanan's tranquil waters teem with fish and a peaceful boat ride is a fantastic way to while away the time.
More about Lake Balanan
Canlaon City
Canlaon City, located north of Dumaguete City, is home to the famed Canlaon Volcano. Many avid trekkers and mountain climbers consider Mt. Canlaon as one of their top destinations.
Quipot Falls
Canlaon City, Negros Oriental
Located 5 kilometers from the Canlaon City proper, Quipot Falls drops from a 100 feet high mountain range and cascades over big rock formations down to a wide and deep river that is ideal for boating, fishing and swimming. It is well known in Negros Oriental for its odd bottle shaped waterfall. Its tributary rivers are the rivers of Binalbagan, Malaiba and Linothangan.
The municipality of Canlaon is located 168 kilometers from Dumaguete City and is also home to the highest peak in the province, Canlaon Volcano.
More about the Quipot Waterfalls
Oldest Tree
Canlaon City, Negros Oriental
The Balite or Lunok Tree was known to have first evolved in the year 678 AD. Historians, botanists and scientists have proclaimed it to be the oldest and biggest documented tree. It has lived 1328 years as of the year 2006. Tucked away in the remote hills of Barangay Aquino in Canalon City, this large sized tree can be seen from the water reservoir dam and the OISCA farm. It is an ideal stop over during a nature trail hike especially because the environment is cool and it also has cottages nearby. In the evenings, the tree is lighted up by a thousand tiny firefly lights akin to a Christmas tree.
More about the Oldest Tree
Two Waterfalls of Sudlon
Canlaon City, Negros Oriental
In the northeastern portion of Mt. Kanlaon at Sitio Gaboc, Barangay Malaiba and approximately 6 kms from the city proper is a stunning pair of waterfalls only 120 meters apart from each other — better known as Sudlon 1 and Sudlon 2. It is fenced in by two hills covered with lush plants and vegetation. The name "Sudlon" is derived from the Visayan dialect that means "to go inside". True to its name, one has to literally get in between the two hills to be able to find the secluded waterfalls.
The cool and tranquil waters of Sudlon cascades down from a 25-meter peak and into a wide basin that is great for swimming. For nature lovers and avid photographers, the Sudlon Waterfalls is an enchanting vista especially when captured when the sun peeks through the surrounding forest trees. It is only a 20-minute hike from the nearest Barangay of Canlaon City.
More on the Waterfalls of Sudlon
Mt. Makawiwili Ridge
Canlaon City, Negros Oriental
Also dubbed as a "saddle in the sky", Mt. Makawiwili Ridge is nestled 8,000 feet high in between two mountain peaks. It is officially the observation platform from where scientists, tourists and locals could study and observe the movements of the legendary Canlaon Volcano. It is usually where a team of trekkers or scientists set up camp because it is a very ideal spot for VHF or UHF relay posts and it also provides great visual advantage for observers of the volcano.
More about Mt. Makawiwili Ridge
Mt. Kanlaon
Canlaon, Negros Oriental
The stately 2600-meter high mountain draws the boundary between Negros Oriental and Negros Occidental and is the highest peak in the Visayas Region and one of the five highest in the Philippines. It has been declared the most active volcano in the province, constantly emitting signals, its last eruption though mild being only this year (2006).
At the base of Mt. Kanlaon and 9.5 kilometers away is Canlaon City, the last town to the west of Negros Oriental. Mt. Kanlaon continues to be a lure to adventurers because of its awe-inspiring majestic crater that is 400 m deep and 100 m wide. It usually takes three days to fully explore this mountain but aside from camping grounds there are also available pension houses for a more comfortable stay.
[summary-child-pages]