Amigo Subdivision, Piapi – Dumaguete City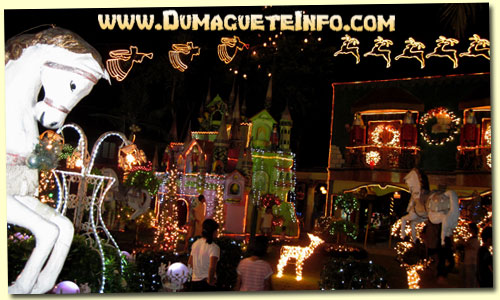 Each year for the past 22 years all the young and the young-at-heart flock to the bedecked Spanish mansion of one Dr. Rico Absin, a practicing anesthesiologist in his late 50s, who has successfully created an institution out of a genuine passion for art and decoration. His private residence is well known as the Christmas House in Dumaguete and Negros Oriental.
Come December the lights at Dr. Absin's house is always the brightest and merriest, illuminating the quaint old house which he has dwelled in most of his life and in which he now occupies alone after inheriting it from his parents.
The Absin house is an enchanting sight to behold when fully lighted up. Brightly colored reindeers in prancing form perched atop the roof can already be distinguished from afar. The house itself is outlined by perhaps many thousands of tiny bulbs giving it a fairytale-like quality. This year, because it is his 18th year of decking his house, he decided to pay a tribute to the Disney princesses Cinderella, Belle, Aurora, Ariel, Jasmine and Snow White.
To the delight of little girls, Dr. Absin erected a life sized replica of his favorite Cinderella complete with a life sized horse and carriage. He also added the seven dwarves' little hut and a princess castle. During opening night last November 22, an orchestra played Christmas carols and Disney songs.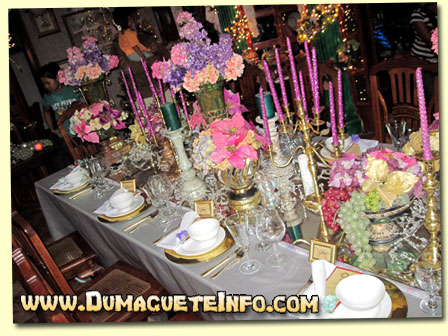 It has become an annual custom for this Doctor to share his blessings during the season to some 300 less fortunate children in the city which he throws a party for their benefit. He never forgets to wrap up gifts to be given away and makes sure that not one child leaves without getting any. Also a member of the City Tourism Council, Dr. Absin holds benefits and fund raisers for this particular cause.
Asked why he had pursued this hobby, Dr. Absin quickly answers that it "gives me great satisfaction to see all the happy people's faces when they come and I also feel good knowing that I bring joy to the children and the people of Dumaguete".
Also an avid collector of antiques, Dr. Absin's house is filled with remarkable treasures that he has collected over the years. Before the house came to be known as The Christmas House, it was already famous for its beautiful things and well maintained gardens and buildings.The house resembles a museum because of rare and interesting pieces. People still went up to view for free the cache of valuables filling all nooks in his precious abode.
The Christmas house is open to the public for an admission of a view peso, this site is very popular and you should have no problem finding it.