Sea View Apartment & Beach House
"With all the comforts of Home"

Sea View Apartment & Beach House is an accommodation rental with panoramic view of the Sumilon Island and Cebu.
The sea view accommodation is one of the most beautiful places in Negros Oriental, through its unique sub tropical garden. Wake up with the sound of the birds, like the Eurasian tree sparrow or passer montanus and the Philippine Maya or the chestnut Munia and viewing the lovely sunset.
Enjoy your coffee & tea in the morning and feel the soft sea breeze on the terrace and inspires the beauty of the place.
Sea view apartment & beach house is an ideal place for a perfect holiday apartment, family outing, and friends hang out. The place is quiet, relaxing and a great place to hideaway. After your activities a coffee table and rocking chair on the terrace cannot be resisted.
If you are tired to go out in the city we have also a small restaurant & bar beside the apartment which is viewing the Island of Sumilon and Cebu. We served Filipino, American and European food. Our friendly and very accommodating are always there to cater your needs and desire. But is not only the restaurant that make your stay more comfortable, our Convenience store it's got everything you need and by the reception we have small area for souvenir items, that catches your eye.
The owner and staff are gladly to advise you on things to see in Negros Oriental and other Island. Like whale watching in Oslob Cebu and snorkelling and diving in Sumilon Island.
Special Features
• 5 minutes to Sibulan center
• 7 minutes to Dumaguete- Sibulan Airport
• 15 to 20 minutes to school & universities
• 15 to 20 minutes to church & hospital's
• 20 to 25 minutes to golf course
Amenities & Services
• Clean & sandy beach to unwind yourself after from a busy day at work
• Jogging, walking and swimming
• Residents guest and visitors parking area
• Self- service laundry(coin operated laundry machine and dryer)
• Free pick up and drop off to the airport
• Barbeque area at the garden (exclusive for in house guest only)
• Sea view restaurant
• Convenience store
• Reception counter, wireless internet access at the reception, a housekeeper, gardener and plumber and electrician.
• Laser printing and photo copy available at the reception
• 12 hours security guard in the night
Rates
Studio type apartment
Seaside w/ garden Roadside w/garden
| | |
| --- | --- |
| JF 1 to JF3 | |
| Daily | P 1, 350.00 |
| Weekly | P 9, 100.00 |
| Monthly | P29, 500.00 |
| | |
| --- | --- |
| JF 4 to JF6 | |
| Daily | P 1, 050.00 |
| Weekly | P 6,965.00 |
| Monthly | P 25,400.00 |
Beach House
Opal…………………………………………….P 2,750.00
Ruby………………………………..…………P 2,750.00
Sapphire………………………………………P 2,750.00
Amber…………………………………………P2, 750.00
Weekly……………………………………………………………………………………P 17,500.00
Monthly………………………………………………………………………………….P 37,000.00
For one year of stay, one month is free
Extra charge
Extra bed w/ bath towel………………………………………………………………P350.00
Extra bed……………………………………………………………………………………..P275.00
Extra towel…………………………………………………………………………………P 75.00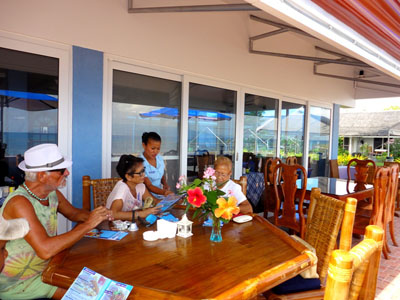 Specifications per studio-type apartment (duplex)
The studio type sea view apartment is on the ground floor of a formerly built beach resort and pension house, which is owned and built by a German and Filipina Couple 30 years ago, We refurnished the place on year 2012, and now it is known as sea view apartment and beach house in a nice panoramic view and subtropical garden. the roof is native, the interior and exterior are modern, the brown sliding glass door, to embrace the comfortable living with the terrace and the garden view. From the terrace you have inspiring beach View.
Built in 1985, Refurnished year 2012
With small kitchen & personal refrigerator
Fully air conditioned room, toilet, hot & cold shower, wash basin, cable T.V. and a small living room, ceiling fan
King size bed 72'' x 78 ''
Electronic Safety box
Maximum of 3 extra beds
Bed linen, towels,
2 to 4 sitter dining table by the terrace
Free wireless internet access at the lobby
Each unit have its own small garden
Visitors are allowed to stay to until 10:00 o' clock in the evening and must abide the rules as the resident's guest
Beach house specifications (duplex)
The commodious beach house is on the ground floor in nice breath-taking panoramic view of the Sumilon Island and Cebu. From living room and the terrace you embrace the comfortable living with an easy sliding clear glass door.
This is a perfect place for vacation; you got everything you need a cup of coffee, a beautiful sunrise and friendly staff.
Built 2013
Fully equipped kitchen, personal refrigerator
Living room w/ pull out sofa bed, ceiling fan
Loft for the kids to play
Toilet, hot & cold shower, wash basin,
Electronic safety box
Air conditioned bed room w/ 79'' X 79'' super king size bed
Bed linen, towels, kitchen towels
A small office table and wireless internet connection
4 sitter dining table, coffee table, rocking chair by the terrace
Each unit have its own small garden
Visitors are allowed to stay to until 10:00 o'clock in the evening
The floor plan
For Inquiries :
Sea View Apartment & Beach House Located in Cangmating Sibulan Negros Oriental 6201
Mobile number :
+63915 5658 966
Land line number:
(035) 419 9997
8am. To 6pm