From the town of Oslob in the Cebu Province, a 15 minute boat ride will take you to the breathtakingly beautiful small island of Sumilon.
Sumilon, which means "take refuge", is all of 24 hectares of luxuriant tropical greens enveloped by an astonishing collection of marine flora and fauna teeming in its lucid and azure waters.
This island is by far the most popular diving spot in the whole of Visayas because of its amazing underwater views. When before its corals were seriously ravaged by the Muro Ami fishermen with the use of the dynamite fishing technique, now it has flourished into a world class 39-hectare marine sanctuary that serves as a home to thousands of aquatic species – the Muro Ami left only to fill the pages of history.
To take refuge in this island paradise is truly a dreamy experience. There are available package tours for one-day visits or you can book for a stay at the Sumilon Bluewater Island Resort.
This resort features amenities such as organized island tours, biking, windsurfing, trekking, scuba diving, snorkeling and deep sea dives. They also have fish feeding and boat rides. On some days, you might just want to gaze at the horizon and while the time away in a cottage perched atop a cliff. Or you may want to indulge in a massage or sample their great food selection beside an eternity pool.
Sumilon – a paradise on Earth
Sumilon is a small 24 hectare island located in the southeastern tip of Cebu that is a favorite diving milieu for all enthusiasts. Dubbed as the country's first marine reserve, Sumilon Island is a treasure trove of hundreds of marine flora and fauna species guaranteed to give a truly unique diving experience. More to that, its white sand beaches are a venue for all beach sports and activities. It was declared a fish sanctuary in 1974 by the initiative of Silliman University Marine Reserve.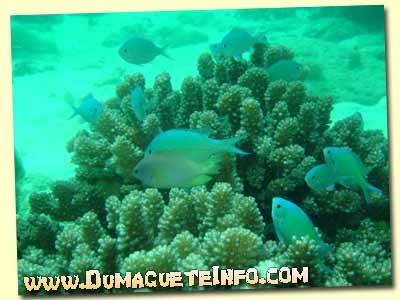 Large coral formations blossom under its sparkling clear blue waters – a breeding foreground to one of the region's most magnificent aquatic life.
History of Sumilon
The history of Sumilon Island speaks well of bravery and national loyalty, two of the traits that the Filipinos are well known for. In 1813, a historical battle took place that claimed the victory for the townsfolk, and put an end to the then relentless attacks by pirates – the last attack being in the year 1782 when the church was left looted and destroyed by marauders.
Aside from religious duties, a young 25 year old Spanish Augustinian monk named Julian Bermejo led the battle for the local folks, masterminding a simple defense plan which ultimately brought the looting to a stop. Later on he also introduced livelihood skills, finished a new church by first securing its premises by thick walls using mortar and coral blocks and constructing a two story watch tower. This feat proved to be a success and to this day, the Spanish tower and the church remains to be a treasure to the people of Sumilon.
The Sumilon sandbar is noted for its changing and shifting patterns depending on the time of year. A lagoon with thick forest mangroves, a lighthouse of historical significance, a tree park, fascinating caves, a pristine lake and some of the country's best diving points (The Garden Eel Plaza, Nikki's Wall, Coral Landscape,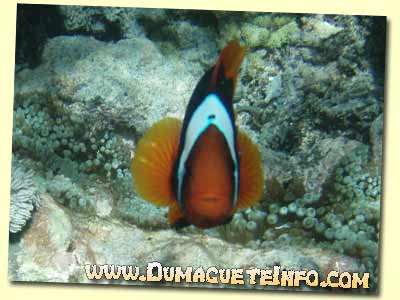 Julie's Rock) are among the island's many places of interest.
Activities include bird watching, beach picnics with the family, fishing, hiking, island tours, paddling and trekking.
The Sumilon Bluewater Island Resort, the lone resort in the island, provides world class accommodations for tourists and guests.
Diving in Sumilon is among the best in the region only matched by the famous Apo Island.
How to get to Sumilon
It is quite simple to get to Sumilon Island from Dumaguete City, you take a 30 minute drive to the town of Tampi in Amlan, Negros Oriental. A ferry will shuttle you across the Tañon Strait to the coast of Bato, Oslob. Finally from Oslob, rentable motorized outriggers can take you to the beautiful island of Sumilon.
[summary-child-pages]