Dumaguete City is the capital of Negros Oriental. The University town attracts plenty of tourists from other parts of the Philippines as well as international visitors from all over the world. Dumaguete also has a growing Expat community and the demand for good services is increasing. Many small and medium sized companies are offering services for all needs. Local Travel agents taking care of your Visa and arrange international and domestic Trips for locals and long-term tourists. Architects and construction companies help you to build your dream-house at an affordable rate and several hospitals and dental clinics with international standard take care of your health.
2428 South National Road, Calindagan, Dumaguete City
Tel nos. (+63-35) 422-2730 / 2254052 | Fax no. (+63-35) 422-2730.
Email: inquiries@philsouth.com / website: www.philsouth.com
AT PHILSOUTH, TURN YOUR IMPOSSIBILITIES TO UNDERLYING POSSIBILITIES.
ONE International School – Pre-school and Primary Schools
ONE I.E. is a small international pre- school and primary school situated in Maayong Tubig, near Dauin, Dumaguete. The school currently caters to children 3-7 years of age and follows the British curriculum. School bus is available from September from Robinsons, Dumaguete.
One International School
c/o Atmosphere Resorts & Spa
Maayong Tubig, Dauin
6217 Negros Oriental
(+63) 0354006940 (+63) 09173120517
info@oneinternationalschool.com
www.oneinternationalschool.com
Philcondev – Construction & Development
House Planning and Design, Design-Build Services, Landscaping, Renovations and Repairs, CAD Plotting, Design of Beach Houses and Resorts.
Rover's Bldg., South Road, Calindagan, Dumaguete City,
Negros Oriental,
Philippines
Cell.: 0917-700 5202, 0917-700 5303
Tel. No.: (035) 422-4444
E-mail address: janice@philcondev.com
website: www.philcondev.com
Imbo Dental Clinic & Associate – Dr. Jose Victor V. Imbo
General Dentistry – Esthetic Dentistry – Orthodontics
Clinic hours is 8:00am to12:00 noon , afternoon 2:00pm to 6:00pm. Please call for appointment.
Dental Clinic – Dr. Manolo L. Imbo
General Dentistry, Orthodontics, Dental Implant Therapy –
Clinical Hours: Monday to Saturday from 9:00am – 5:00pm – Sunday by appointment only
Baro Veterinary Clinic & Pet Supply – Dumaguete Animal Clinic
Minor and Major Orthopedic Surgeries, Grooming, Surgeries, Boarding, Deworming, Vaccination, Confinement, Blood Examinations, X-Ray, Dental Prophylaxis, Whelping Assistance, Supplier of Dog and Petfood and Home Service by appointment.
Orchids Daro Highway
Northroad – Dumaguete City
Landline : (035) 422-0596 (clinic), (035) 419-8745 (home)
Cell: 0917-9553 056, 0930-401 0367 (Doc Fritzie), 0921-6320 636 (Doc Diana)
email: lyndonbaro_23@yahoo.com , dianne_baro06@yahoo.com
ACELOGIC – Computer Solutions
Products & Services: Computer Desktops & Notebooks, Networking Products, CCTV Surveillance Systems, Digital & Video Cameras, Point of Sale Systems, Multimedia Projectors, Fax Machines, Security Systems, Computer Repair & Maintenance.
Corner Dr. V. Locsin St. and Sta. Catalina St.
Dumaguete City
Landline: (035) 226-2880, (035) 422-6277, (035) 422-9478
Email: carlomatiao@gmail.com
Pinayvisa U.S. Visa Assistance Specialist
Full service US visa processing of Family based visas for Philippine Citizens. Personal service, no hidden fees, guidance throughout the entire process.
Cell: 0908-213-7571 (English only)
Cell: 0921-790-7821 (English, Visayan, Tagalog)
ATMs in Dumaguete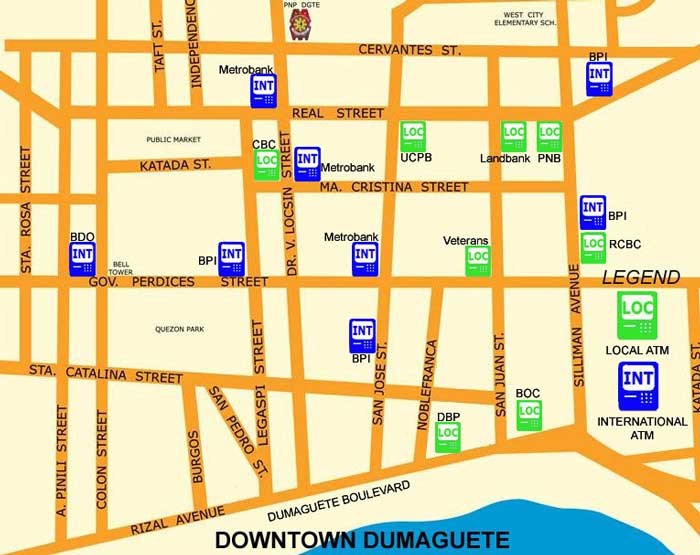 Many different companies offering their services for the gentle people of Dumaguete and Negros Oriental. The demand for professional attendances is growing with the city. Today Dumaguete plays a big role in the central Visayas. Several Recruitment companies opened their offices to find domestic helper and nurses for working oversea.
[summary-child-pages]