The Apo Island Marine Sanctuary is a protected reef where fishing is strictly prohibited. However, traditional methods of fishing are allowed beyond the sanctuary's area and never the harmful and non-ecological methods like muro-ami (dynamite fishing) and other related methods. Traditional methods would include hook and line, bamboo traps, gill nets, spearfishing without scuba, and other kinds of netting.

Only a maximum of 15 divers at one time are actually allowed in the sanctuary to allow the marine life to regenerate. The most interesting fact about this reserve is that it is home to different species of the clownfish, earning the moniker Clownfish City.
Marine Life in Apo Island Marine Sanctuary
Residents of the reserve include moray eels fusiliers, angelfishes, scorpionfishes snappers and sweetlips surrounded by a breathtaking coral garden.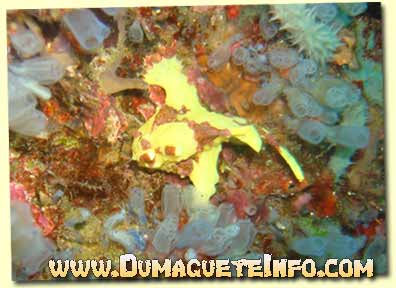 The coral reef wall is an extravagant display of hard and soft corals. Sometimes you can catch a glimpse of a turtle, a flounder, sea moth, long nose hawkfish, scorpion fish and frogfish.
The Apo Island Marine Sanctuary is an area serving as an observatory and laboratory for scientists studying its undisturbed habitat – making it a place of learning as well as of recreation and leisure. It had been the project of Silliman University to convert the island into a protected marine reserve mainly because the mainland itself was fast degrading and its marine resources, also rapidly depleting.
A study was conducted on how a marine reserve could reverse this situation which proved to be the answer to Apo island's dilemma. In the year 1980, conservation guidelines were implemented by the island barangay council and the Dauin Municipal Council which claims political jurisdiction over the island. Such guidelines aimed to defend illegal and destructive fishing practices done by outsiders.
Apo Island Marine Sanctuary Fish Breeding
In the southeastern portion of the island is a coral reef fish sanctuary and breeding area where large boats are prohibited to anchor without a buoy. The law also bans the collection of all types of specimens from clams to weeds to fishes. Giant Tridacna clams are also bred in the fish sanctuary. This fish sanctuary is deemed essential to permit fishes to breed naturally and to grow into maturity without the threat of fishing, variably increasing its reproduction rate.
There is also a small cottage for resting in the fish sanctuary area that can be rented for the day or for overnight stays. An Apo resident is assigned to collect for fees. Though the cottage is stripped to the barest essentials, the island's balmy tropical breeze still suffices as a cooling instrument to ward off the heat.