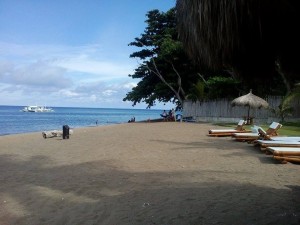 Dauin about 15km south of Dumaguete City is known to have many beach resorts in the Province of Negros Oriental. One famous beach resort is Pura Vida. The spacious beach resort is built from divers for divers and is under Swiss Management. "Pura Vida" means "Pure Life" and that's exactly what they want you to feel during your stay at the Resort. The place is surrounded with nature like trees, flowers, green grass and plants. The place is kept as natural as possible and uses natural and environmentally friendly resources to give you that luxury feeling combined with closeness to nature. The resort has 31 rooms and can offer 5 different room categories which gives you the opportunity to decide for yourself how much comfort/luxury you want to enjoy during your vacation. The resort and all the rooms are very spacious with a beautiful view over the ocean and garden. The property invites you for relaxing strolls in this tropical setting away from the busy and noisy daily routine. The resort also accepts walk in customers. There is no entrance fee if you order from their restaurant and bar. But if you want to take a dip in their swimming pool, you need to pay 200 per head. But, you have an option; you can also swim in the beach for free.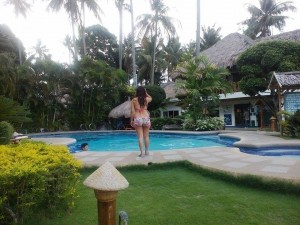 The resort offers good food and drinks. For culinary excursions their restaurant is using mostly fresh ingredients with respect to seasonal supplies. Regular visits to local markets with fresh produce support them to respond to your wishes and to spoil your taste buds in any possible way during your vacation. After your day of diving come and enjoy a "decompression" beer, a tropical drink or a fresh fruit shake at the beach bar. For the decorations of the restaurant, the rooms and as well for the Bamboo construction of their standard cottages they signed up with the Buglas Bamboo Institute. It's a European supported development project which is located in Dauin, just a few kilometers south of the resort. During the further development of new room categories, such as Deluxe rooms, Family rooms and Suites they used more solid structures but still combined with many natural elements. For the shopping enthusiasts of you their boutique offer a wide range of handmade local products, Beachwear, souvenirs, cosmetics and much more. Last but not least indulge yourself at their Vida Spa. They offer a variety of professional massages and beauty treatments that will leave you completely relaxed and refreshed.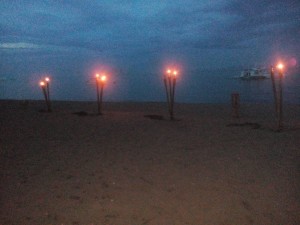 As I mentioned a while ago, the resort is built by divers for diver it means that diving is also part of the resort activities. There are local divers around the vicinity. You can always ask help and assistance and pay them for their service. So what are you waiting for, include this place in your list when you visit the province of Negros Oriental. For sure, you will have a good time with your love ones and you can unwind while de-stressing yourself from your busy schedule.