How to Quote a Post, Multiple Posts and More:



Single Quote

- To quickly quote single full post made by a user simply go to the post you wish to quote and hit the "Reply" button below it:


​


After you click this button you will automatically be brought down to the Reply Box and the post you replied to will be placed inside the quote ([QUOTE][/QUOTE]) BB code:


​




Multi-Quote

- To easily quote multiple posts by one or more users go to the first post you wish to quote and click the "+Quote" button. You will be notified the selection was made:


​


Repeat this with other messages you wish to quote in your reply. Once finished scroll down to the reply box and click the "Insert Quotes" button (located opposite the "Post Reply" button) to review the quotes you selected and then press "Quote These Messages":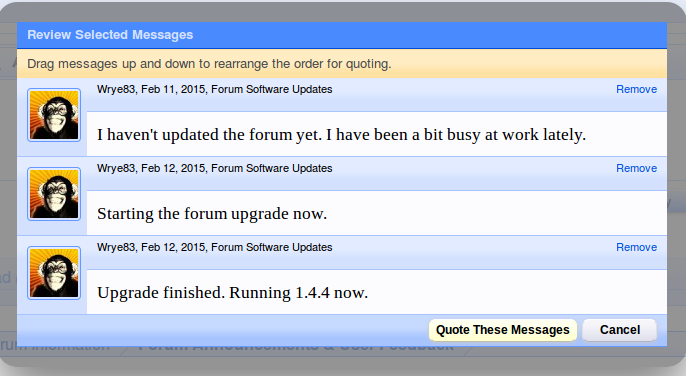 ​




Selective Quote

- You can selectively quote parts of a post by simply highlighting the section you wish to quote with your mouse or touch screen and then clicking the +Quote or Reply Button.


​