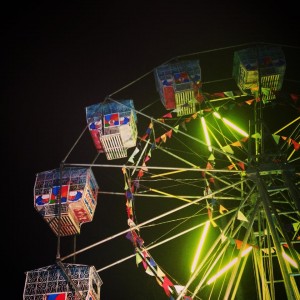 Dumaguete Charter Day is another month of Celebrations in the City of Gentle People. There would be parades, competitions and events, activities, tournaments that are spread out across the whole City of Dumaguete with the Quezon Park in the City Center. Usually, the activities would start around the first week of Novemeber until the first week of December. The City parade happens on the 25th of November at the exact day of the Charter Day. Dumaguete is politically subdivided into 30 barangays, all classified as urban. And they would also celebrate Dumaguete Fiesta. All Filipinos loves fiestas. The word "fiesta" will bring a smile to the face of almost every Filipino. Fiesta is a special time with family, friends and a time for fellowship. People in Dumaguete are busy for weeks preparing for them. It is surprising, how even those facing many problems in their day-to-day life set them aside and participate in the festivities.
When you talk about Dumaguete Charter Day, it's not only events and activities, it's also about food. If not 100 percent but mostly 70 percent of the locals here would have their own caterings, parties and agendas for Fiesta celebration. It is a two days celebration. November 24 and November 25.  Different delicacies and dishes would be served. Yummy and home made dishes.  Food being served in the table or buffet is the best that they can offer since they had so many guests to impress. The famous "Lechon Baboy" or roasted pig is always present during this occasion.  The locals here are very hospitable so usually, you just attend to the party even if you're not invited because Fiesta is for everyone. The people in Dumaguete are very hospitable and kind. Indeed Our City is known as The City of gentle people.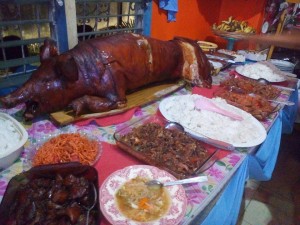 During this event, there are several flea markets around the City. Where in you can shop and dine. There are city lights and joyful atmosphere around the City. As I can remember, every Charter Day, there would be a Carnival in Freedom park offering a lot of rides. We use to go there when I was still younger. Of course, the karaoke is always present in almost every home of the locals celebrating fiesta. Numerous dance parties and events in clubs would also be held. The City turns into a very festive place.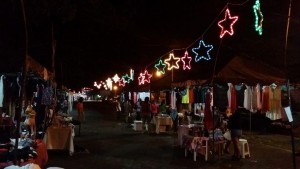 Flea market
In line with the Charter Day celebration is the Sandurot Festival which usually happens during November 16-25, 2014. Since November 25 is the parade, there would be a showdown in the streets of Dumaguete. The Sandurot is held to commemorate the fellowship that the people of Dumaguete City, Negros Oriental have been extending to peoples of other beliefs and ethnicities throughout the decades. This are the following events that would usually happen during the Sandurot Festival:  Dumaguete Adventure Marathon, Sandurot Karatedo, Miss Dumaguete Presentation and Talent Night, Farm Family Congress Day 1, Sandurot Singing Idol, Farm Family Congress Day 1, Sandurot Singing Idol, Farm Family Congress Day 2, Sandurot Folk Dance Competition, Farm Family Congress Day 3, Sandurot Harana Competition, Sandurot DUFAS Night, Sandurot Pop Dance Competition, Miss Dumaguete Pageant Night, Sandurot Transport Show, Comedy Show, Dumaguete Transport Competition Day 1, Sandurot Festival, Rice is Life Fest, Dumaguete Transport Competition Day 2, Dumaguete Triathlon, Sandurot Dog Show, Sandurot Street Party, Sky Night, umaguete Transport Competition Day 3,Charter Day Thanksgiving Mass, Charter Day Parade and Float Competition, Outstanding Dumaguetnon Awards, ABS-CBN Concert Night, Comedy Show, City Fiesta Cathedral, Social Welfare Day and Tourism Road Show.  But the fun does not end there, as the people would now prepare for the Christmas Celebration.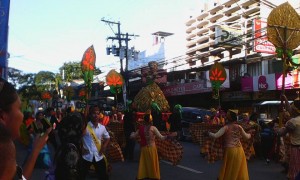 Sandurot Festival Parade