| | |
| --- | --- |
| Siquijor is the magical and mystical island of the Philippines used to be part of Negros Oriental and it was at that time called Island of Fire.Siquijor is said to have magic potions, shamans, sorcerers and witches – and a lot of Filipinos will not stay overnight on this island because of this superstition. For me it just makes the trip more exiting and I enjoyed my overnight stay in Siquijor.Siquijor is only about an hours boatride from Dumaguete City, so it is easy to include Siquijor as a day trip from Dumaguete. Once you arrive on the island I suggest you talk to one of the local multicab drivers and arrange for him to take you around the island and show you all the sights worth seeing here. | |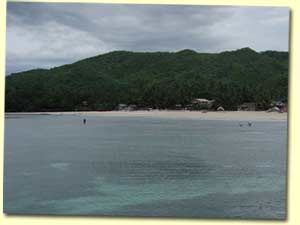 White sand beaches make up most of the 102-kilometer coastline of the little island of Siquijor. Found in the Visayas region, it is a famous travel spot for tourists and locals alike because of its vast coral reefs that are just ideal for scuba diving and snorkeling.
It generally has a hilly terrain that has magnificent white rock formations that have been shaped by the changing wind and a total of six interesting caves, the most popular of which is the Cantabon Cave – a cavern filled with stalactites and stalagmites, tiny waterfalls and pools.
Island tours include trekking and spelunking. It also has rivers and springs surrounded by dense mangroves and an undisturbed tropical forest.

Salagdoong Beach Resort
Salagdoong Beach Resort is the perfect island getaway. One can make use of the amenities and services that the resort offers including package tours around the island's historical spots – a century old house and equally ancient cathedrals and convents. Other places of interest are the Mount Bandilaan Butterfly Sanctuary and Tree Park and the Kambugahay Falls in Lazi, Salagdoong Beach Resort is discreetly tucked away in a cove providing for ultimate privacy with a refreshing view of the shoreline.
Siquijor is also well-known for its festivals that focus on primitive healing rituals where incantations are sung while the old folks make potions out of herbs, roots, insects and tree barks. In hushed talks, locals would share a story or two about folk legends pointing to the existence of witchcraft and witches in the island. This peculiar occurrence lends more mystery and magic to the character that is Siquijor.
Suiquijor may be reached from three vantage points in the Visayas: Dumaguete, Bohol and Cebu. The boat ride to the port of Larena is fairly short depending on the weather conditions.
Siquijor Restaurants
An important thing for many travelers and visitors is of course to try the local eateries and restaurants, wether you are looking for traditional filipino food or international dishes you should be able to find something that suits you on the Island of Fire.
More about Siquijor restaurants – The restaurant section is still work in progress, we are going over there on a regular basis and try out more and more restaurants.

Siquijor Marine Reserve
Siquijor has been declared as a marine reserve in 1978. The island lays claim to an untouched marine wildlife that beckons enthusiasts to explore its many secrets. Hidden beneath the sparkling blue waters is a diver's playground where a breathtaking rainbow of life exists. Parrotfish, damselfish and lapu-lapu are among the many inhabitants of the reefs.
Many resorts in Negros Oriental provide diving tours leading to this unique and mystifying island — an island that would certainly enchant you and signal you to stay a bit longer. And most likely you would, lest the witches cast their spell on some wide eyed mesmerized traveler.
The islands of Sumilon, Apo and Suiquijor are perhaps three of the best kept secrets in the Visayas. Every year diving enthusiasts flock to these well preserved natural beauties that have been getting great attention from all over the world. Not to be disappointed, they truly deserve the fame.
Siquijor Sightseeing
Siquijor Island is dotted with tourist attractions. One of them is the Cambugahay Waterfalls – a five level waterfall that has multiple cascades – an interesting sight to behold.
The Old Cang-isok House
The Cang-Isok House is a celebrated treasure of the province of Siquijor because it has been there for over a century but still stands proud and strong on its stilt-like legs. Made from native and indigenous materials like bamboo and nipa sheets and good quality hardwood specifically tugas, this house is an interesting piece of art and detailed engineering construction that surprisingly withstood many storms in the Visayas region.
Located in Barangay Libo which is only three kilometers from the Siquijor central portion of Siquijor town, the Cang-Isok house was erected in the mid 1800s. It is the oldest house in the province of Siquijor and perhaps in the whole Visayas too.
The Church and Bell Tower of St. Francis of Assisi
Built in the year 1870, another century – old religious heritage is the St. Francis of Assisi Bell Tower and Church. Made up mostly of corals, the church is located in the town of Siquijor, Siquijor near the local pier. It was intentionally positioned there to give the guests and travelers a grand Siquijodnon welcome with blessings and goodwill upon arrival at the Siquijor Pier. The church has its own watch tower or bell tower built to protect and forewarn the island folks of approaching pirates and other adversaries.
The St. Francis of Assisi Church has just undergone extensive restoration and repairs for the purpose of preserving its historical value and significance, and for maximum appreciation of its breathtaking beauty by all who come to visit the Church today and in the years to come. The Bell Tower is tagged next for repair and restoration immediately after constructive work on the Church.
Capilay Spring Park
Capilay Spring park in San Juan is a popular destination on Siquijor's hot summer days, there are 3 refreshing fresh water pools fed from the springs here, and tourists and locals are flocking to the place to cool down.
More about Capilay Spring Park
Cambugahay Waterfalls
Rumoured to be the single enchanted waterform in the province, the Cambugahay Waterfalls indeed look charmed. This multi tiered waterfall is a soothing and refreshing retreat – the water is clear and calm and fit for bathing. The surrounding trees provide a picturesque backdrop, coupled with the intermittent bird sounds and the constant gurgling of the water makes the Cambugahay Waterfalls a definite must see.
The easiest way to get there is by renting a motorbike or a multicab and by foot towards the actual vicinity. The path going to the waterfall is somewhat steep and the rocks could be slippery but once the waterfalls come into view, the stunning vista makes you forget about everything else. It is indeed a cool respite to any traveller's weary spirit.
The St. Isidore Labradore Parish Church and Convent
From San Juan, the town of Lazi, home to the famous parish church and convent, is a good fifteen kilometers drive. It is in this southern tip of Siquijor Island that the commanding parish church and convent buildings stand ground amidst stately acacia trees. Known as the biggest convent in the whole of Asia
More about The St. Isidore Labradore Parish Church and Convent in Lazi
Siquijor has 2 dive resorts, namely the Coco Grove and the Kiwi Dive Resort, I have seen and stayed in both resorts and can without doubt recommend Coco Grove Beach Resort.
More about Siquijor diving and dive sites
Shopping in Siquijor
There are a lot of small stores selling everything from daily needs and groceries to great souvenirs and art pieces for tourists. Hand made furniture is also available here on the Island of Fire.
[summary-child-pages]