Welcome to Dumaguete City
Dumaguete City is a Visayan city of the Philippines, the capital of Negros Oriental, which is very close to the marine sanctuary of Apo Island – where scuba diving is superlative.
The city is often referred to as the City of Gentle People, and it is the principal seaport and largest city of Negros Oriental. A tourist will enjoy the friendliness and warmth of the Dumagueteños.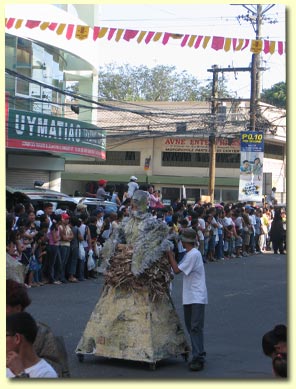 The city is an attraction to tourists because it is easy to travel to and from Cebu City using a ferry. In addition Dumaguete offers beach resorts and dive sites. One can enjoy watching dolphins and whales swimming nearby the Bais Bay. The peaceful seaside boulevard is an ideal place to stroll by and relax.
You will find in Dumaguete City the many tourist attractions in both natural and man-made structures. To attract tourism in the area, one of the agendas of the local government is to maintain a cooperative relationship with business establishments to provide hospitable service to visitors.
Nature enthusiasts will enjoy whale and dolphin watching in Bais Bay – usually by bancas; scuba-diving at Siquijor or the Apo islands; mountain hiking in Mt. Talinis; or just plain sightseeing the panoramic view of Valencia town.
Interesting places to visit in Dumaguete City
The Bell Tower is an old landmark of the city, and this tower is a mute witness to pirates from Mindanao who came in the late 18th century. Built between 1774 and 1776, the bell fry served as a watchtower with someone ringing the bell, alerting the village people of marauding pirates. Today, improvements were made on the bell fry along with the renovation of the church and convent.
The capital's seafront boulevard is lined with old trees and memorial houses, with elegant dining establishments opened for business. The boulevard is a popular jogging track for health buffs.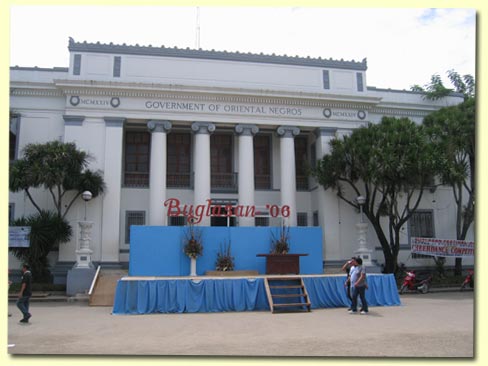 CATHEDRAL PARK
This park is more than a century old landmark. It is also an icon of Dumaguete's religious atmosphere.
QUEZON PARK
For decades, this place has been the rendezvous of people from all walks of life. This park is planted with beautiful trees with a playground for kids. It also has enough area to hold concerts.
SILLIMAN BEACH
Students and youngsters go here to enjoy this beach and to relax and enjoy a Sunday with their families or peers.
SEA PORT
This beautiful sight – a park with a panoramic view of the sea – can be seen from the Rizal Boulevard. This is a hub for people hailing from the nearby islands of Cebu, Bohol, Siquijor, and Mindanao.
Majority of the population speak English fluently and can understand a little Spanish. Aside from English and Filipino, Dumagueteños speak Cebuano (Visaya) as their main dialect.