Staying Active In Dumaguete City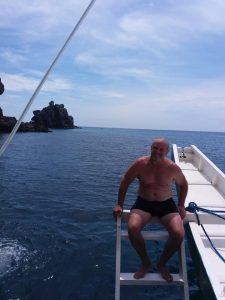 As I reach my 60th year, I have found that staying active physically has grown more and more important for me. Though not really motivated obsessively to "stay fit" as I was when in my younger years, I have found that when I am am active, I just seem to be better able to enjoy the life I believe I deserve.
When I first came to The Philippines, I lived on a remote tropical island paradise, and though I really enjoyed swimming in the ocean everyday and biking around the small island's trails, after about 3 months, doing the same thing everyday became real boring.
Now that I live in Dumaguete City, one of the upsides is that staying fit does not have to be boring. There are just so many things that I enjoy which are close at hand that I can constantly "mix things up"
Here are are a few of the things that have helped me get out there almost everyday and allow me to stay active, engaged, at least somewhat physically fit.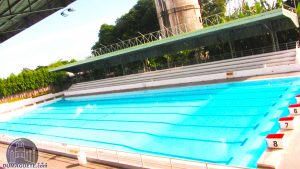 Swimming
My personal favorite is throwing on the snorkel and fins and going for a long ocean swim and the areas around Dumaguete are diverse and intriguing. Just along the Dauin coast alone, there are probably close to 10 marine sanctuaries which I rotate around so that I never get bored seeing the same fish or the same coral. Very often I get so wrapped up in the underwater scenery that an hour or two of exercise passes without me even knowing it. The odd time I will get on a boat and head over to Apo Island and spend a few hours swimming with the giant sea turtles.
When the ocean is too rough or I just don't feel like heading too far away, I chose the local pool and do a few dozen laps of breast stroke. The Lorenzo Teves Aqua Center is right downtown and has a large Olympic size pool which is almost always empty, meaning no fighting for a lane.
---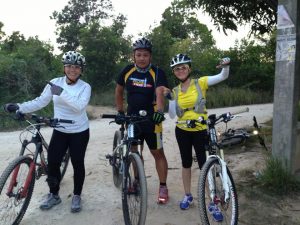 Biking
Though no means a biking pro, I love to get out on my mountain bike for a few hours several times a week. Though rarely venturing off road and risk serious injury to this aging body, I never get bored. On my best days, I will head up West into the Valencia mountain area where the inclines are more challenging, and when I am a little less motivated, I either head down South to the Dauin area or up North around Sibulan. Either choice can easily lead me on a 20-30 km ride with easy flats and some more challenging hills. Though I am usually a loner when it comes to biking, there are plenty of bike groups in the area, and usually when I am out, I  run across a few and exchange stories.
---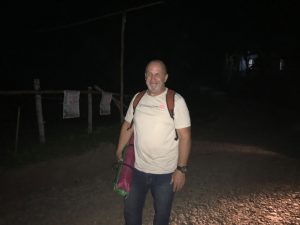 Hiking
Just 15 minutes in any direction by car or motorbike, you will find a vast unexplored tropical rain forest. Every once in a whil I get out with a group and we do our own exploring. Recently about 30 of us planned a two day trip up to Mt Puncak Tanawan, a local and popular hike in Sibulan. For the more adventerous, there is a several day hike up to to the peak of the highest mountain in the region, Mt Talinis, and for the for the less strenuous hike , there are just locations like Twin Lakes, Cassororo Falls and many more.
---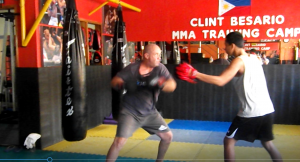 Martial Arts
Though many years from my fighting prime, I still enjoy getting out to the Dojo and getting a sweat on. An hour or two of sparring or brushing up on techniques and I walk out exhausted. My personal favorite is Belasario's MMA in Daro, however there are many others that you can either join or walk-in whenever the fighting spirit moves you.
---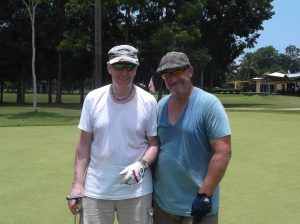 Golfing
In Dumaguete, when I want some more sedate exercise, a few hours on the links helps me out. While far from a great golfer, I can usually shoot a round in the mid 90s comfortably at the local club, Ang Tay. Having a friend or two along to laugh at me when I duff a few helps make it an even more enjoyable and a few hours walking exercise does not evn feel like exercise. Another club in Sibulan called Bravo, has recently re-opened with an executive par 3, but I have not yet ventured there myself.
---
Weightlifting
For me, one of the best ways to work off stress and also get a well rounded workout is to spend a few hours at the gym. I am partial to the Four C's Fitness Center now located in the new Silliman Portal East Building, right on Silliman avenue. Though a little crowded at peak times, if you have the flexibility to schedule your workouts at off hours, then you will pretty well have the run of the place and can use the wide choice of modern machines or free weights. There are at least 5 or 6 other gyms in Dumaguete city proper and if you are situated down in Dauin, I would recommend the Pura Vida fitness center. Though not fully decked out with a wide selection of equipment, there is enough there if you get creative.
Though there are many reasons why I consider Dumaguete City as a great place to live, one of the biggest reasons is definitely that it gives me plenty of options to stay as fit as I chose. I try and mix it up so that some weeks I focus on biking or swimming and other weeks I tend to focus more on gym work. Either way, I do not ever get bored.