Rizal Boulevard
One cannot simply miss Rizal Boulevard when in Dumaguete City, a 780-meter strip of wide beachfront promenade. It runs almost entirely along the city's commercial district and provides quite a refreshing and calming view when dining or having a drink at one of the many restaurants or bars lining the street.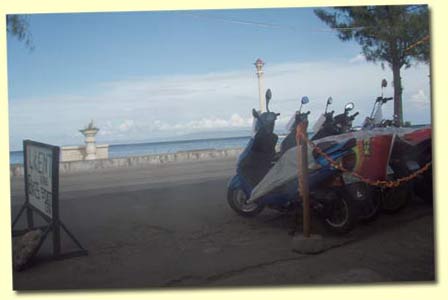 It is a popular spot for family picnics and other outdoor activities. On Sundays, you can usually find revelers seated cross legged on the grass around their spread of food. Children have their time of day running around or clam digging on the seashore during low tides.
On many occasions it becomes a venue for celebrating city festivals. During the day, the streets hold parades and dances while banca (sailboat) racing goes on at the beach. In the evening, it becomes a native food market. The wonderful aroma of grilled seafood and barbecue permeates the sea air. A band performs nearby while the beer continues to flow.
A quiet night outside on full moons calls for a romantic stroll after a taste of the boulevard's action-packed night life. It is just a perfect way to end a pleasant evening soiree.
Rizal Boulevard is undoubtedly one of the most visited places in the city. It was named after the famous Philippine national hero, Dr. Jose Rizal, who actually made a stopover here on his way to Dapitan where he was put in exile.
More about Rizal Boulevard
Dumaguete Belfry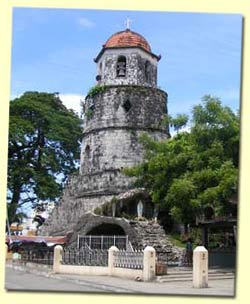 The bell tower of St. Catherine of Alexandria Cathedral was constructed in 1811. Other than informing townsfolk of daily mass schedules, it also served as a watchtower for forthcoming attacks by aggressors.
The Dumaguete Belfry was restored in 1985 and since then has become a very popular landmark. A garden now surrounds the tower and a grotto of the Virgin Mary stands erect near the base. Devotees flock daily to light a candle for their prayer requests or for confirmation of their faith.
More about Dumaguete Belfry
Silliman University
The pride of Dumaguete, Silliman University is a vast 60 hectare land located at the very heart of the city. Built in 1901, it first started with less than 10 students and a makeshift classroom. Today it is one of the best and biggest universities in the Philippines.
More about Silliman University
Silliman Hall
The Silliman Hall is the oldest known building in the campus. It was erected in 1903 when the need for additional classrooms arose. Today, it serves as a museum and a venue for university dinner conferences and the like.
More about the Silliman Hall
Silliman University Library
In the year 1978, construction began for this 3 storey building using funds donated by the USAID foundation or the United States of America through the office of American International Development. It was finished within one year, and formally inaugurated on August 28, 1979. It still remains to be one of the biggest libraries in the Philippines.
More about the Silliman University Library
Katipunan Hall (Mission Hospital)
Once the City Mission Hospital, Katipunan Hall is now converted into classrooms and educational departments. Interestingly enough, much of the hospital's original structure has been retained.
The Mission Hospital was first opened in December of 1915 by Dr. Langheim and his nurse-wife who were the pioneers of medical missionary work in Negros Oriental. Both were also educators at the school.
More about the Katipunan Hall

Boulevard by Night
Dumaguete City Public Market
In the bustling downtown area is the city market filled with tiny stalls and rows of tables stacked with local fresh produce.
Meat and vegetables are usually freshest in the early morning hours. Fishermen from neighboring towns also bring in their catch during this time.
The public market could be a bit noisy and a tad cluttered because of so many people coming in and out of the building. Other products that could be sourced from there include pots and pans, baskets, brooms and other cleaning agents, plastic products, rice, livestock feeds, even freshwater pearls, watches and gold jewelry.
More about the Dumaguete City Public Market
Angtay Golf Club and Driving Range
Bantayan, Dumaguete City
The proximity of Angtay Golf Club makes it convenient for all golf enthusiasts in the city to practice their swings after work at the office. In the late afternoons, it is a common sight to find junior golfers lining up for training sessions as well.
With the 9-hole course, Angtay Golf Club has a function room and a restaurant serving good food. It is also a perfect setting for wedding receptions and children's parties. It has a spacious parking area with security guard.
More about Angtay Golf Club and Driving Range
The Christmas House
Amigo Subdivision, Dumaguete City
The Christmas House is a one-of-a-kind legacy initiated by Dr. Rico Absin, an anesthesiologist in the city. For the past 18 years, visiting the Christmas House has become a tradition for all Dumagueteños.
Each year for the past 18 years all the young and the young-at-heart flock to the bedecked Spanish mansion of one Dr. Rico Absin, a practicing anesthesiologist in his early 50s, who has successfully created an institution out of a genuine passion for art and decoration.
Read more here: The Christmas House
These are all exciting Dumaguete landmarks that you're sure to enjoy!
Relish the magic of time… Travel back to history… These are some of Dumaguete's must sees.
Dont forget to check Sightseeing around Dumaguete and Negros Oriental Sightseeing