POPCOM VII announces its HELPLINE now available to clients in Region VII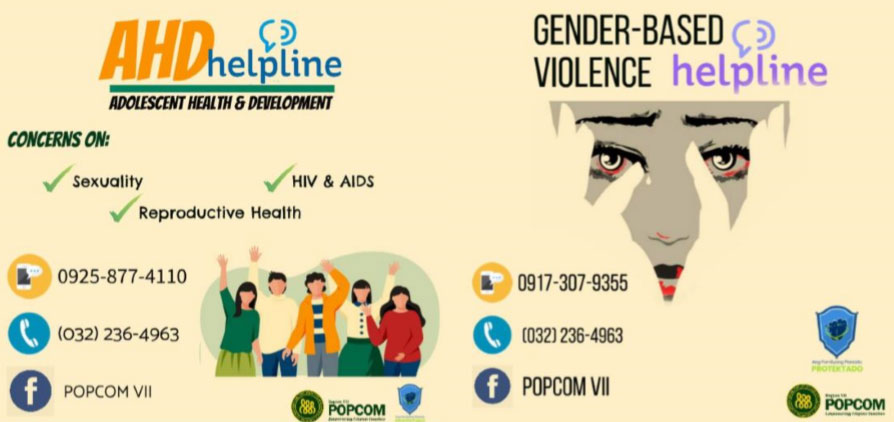 From Monday to Friday at 8 in the morning to 5 in the afternoon. Areas of concerns include: Family Planning (FP), Adolescent Health and Development (AHD) Sexuality, STI, HIV and AIDS-prevention including teenage pregnancy; and Gender-based Violence (GBV). Helpline numbers include the POPCOM VII Regional Center with landline number: 236-4963 and dedicated cellphone numbers of Responders: 0936-9726651 (FP), 0925-877-4110 (AHD), and 0917-307-9355 (GBV).
The purpose of the POPCOM Helpline is to provide basic and essential information to clients on these matters, make commodities available to clients with service provider, such as pills, condoms, and implant insertions; information dissemination on the concerns of young people – physical and physiological information for adolescents, Gender-based Violemce (GBV) – services to clients with a referral system in the barangay level following protocols to access services, creating a two-way intervention; receiving clients' reports and other population-related issues. POPCOM VII Helpline is only for basic information, and with GBV, for example, it is not intended for counseling; otherwise, clients are referred to DSWD/MSWD and local service providers. The POPCOM Helpline has an existing Manual and Guidelines/ Protocol to follow based on the memorandum from POPCOM Central Office.
About POPCOM: The Commission on Population and Development (POPCOM) is the country's lead organization in population management for well-planned and empowered Filipino families and communities. Its goal is to attain a better quality of life for all Filipinos through management and maintenance of population level resources and the environment.
CONTACT DETAILS: Contact Person: Maria Lourdes A. Garillos Information Officer II
Tel. Nos. (032) 416-2528; 2364963 Email Address: popcom_7@yahoo.com.ph Fax No.: (032) 416- 2559 Website: www.rpo7.popcom.gov.ph
Form No. PR-IMCD-FM023 Version No. 02 Effective Date: April 1, 2019 Press Release No. PR 19-2020 Release Date: June 9 2020