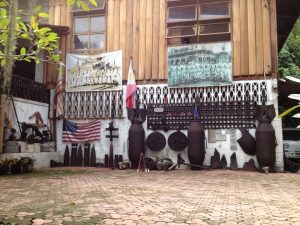 CATAL-AL WORLD WAR II MUSEUM,From Dumaguete you can hire a private van and reach the place for less than an hour. You may also take a ride with a PUJ (for a P12 fare), at the Valencia terminal in Dumaguete, and before reaching Valencia proper you will pass by the museum. Or you may hire a tricycle in "pakyaw" basis to take you from Dumaguete to Valencia.
You will never miss the place, you will notice a signage along the road and upon entering the compound, you will notice an old jeepney bearing the USMC (United States Marine Corps) logo, with a dummy Japanese soldier sitting in it. The collection is house in a rumbling structure made of stones which they maintain as their museum.
The area is lined up of massive World War II antiques. Huge bombs from American and Japanese fleets scattered around. Heavy artillery, ammunitions, grenades, pistols, knives, military accessories including a full-battle uniform. Remains of Japanese officers to include bones, teeth, etc., were being displayed.
Collection includes an antique military compass, water containers, fuel containers, soldier's radio communication, old coins, antique plates, old typewriters, petromax, cases of coke and pepsi in the 1930's and 1940's era.
Father and Son Tandem
Porforio Cata-al, the father is part of the guerilla movement during the World War II, wherein US Forces and Filipino guerillas fight against Japanese in 1945. It was after the second world war that Porforio started collecting artifacts.
His son, Felix Cata-al, who was 5 years old then, shared the same passion with his father.
They go exploring in the area of Mt. Talinis, digging tunnels, caves and undergrounds for Mt. Talinis region is known to be the last holdout of the Japanese military, and believing that some Japanese officers brought part of the Yamashita treasure. Much of the loot has never been found and many believe the treasure is still hidden in the area.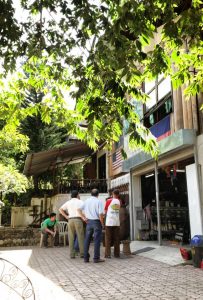 But just the same, the father and son had found the treasures they never expect. Their collection of antiques and artifacts were worth the price. A genuine Katana(Japanese Samurai) was being authenticated by a American Katana collector.
They had established liason with the Japanese, and they had been instrumental in sending 26 Japanese remains to their final resting place.
Donations anyone?
The place has no entrance fee, you could look around since they are open from Monday to Sunday at 9:00 AM till 5:00 PM. It's up to you to drop any amount at the metal donation box at the counter. Said amount could help in the maintenance of the place.
Is this your business?
Claiming your listing is the best way to manage and protect your business.
Claim it now!