Lake Balinsasayao is so nice see and you can enjoy the forest you can feel fresh air and see what the beauty of the any kind of tree,birds,animals.
Type: Natural Beauty/Swimming/Boating
Location: Sibulan, Negros Oriental, (Barangay Hanay hanay San Jose Negros Oriental)
Budget: entrance fee  Adult -P 100, Child -P 50, Motorcycle-25
Time: 8am-5pm
Activities: Photography, Boating,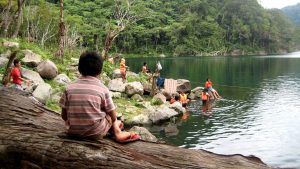 Balinsasayao Twin Lakes Natural Park is a natural park in the Philippines surrounding Lake Balinsasayao and Lake Danao in the province of Negros Oriental, 14.5 kilometres (9.0 mi) west of Dumaguete. It covers an area of 8,016.05 hectares (19,808.1 acres), with heights ranging from 830 to 846 metres (2,723 to 2,776 ft). The park is located in the Mount Talinis range, also known as Cuernos de Negros, in the southern portion of Negros Island, and spans across the municipalities of Valencia, Sibulan and San Jose. It was declared a protected area in 2000.
Description
Lakes Balinsasayao and Danao are two small crater lakes separated by a narrow mountain ridge in a hallow surrounded by Mount Guintabon to the west, Mount Balinsasayao to the east, Mount Kalbasaan to the north, and Mount Mahungot to the south. They are located on the eastern slope of the Talinis mountain range which are volcanic in origin. Lake Balinsasayao has a surface area of 76 hectares (190 acres) and maximum depth of around 90 metres (300 ft). The smaller Lake Danao, on the other hand, has a surface area of 30 hectares (74 acres) and maximum depth of around 58 metres (190 ft).
The twin lakes and their surrounding primary and secondary dipterocarp forests serve as the watershed for southern Negros Oriental. It contains the headwaters of five major river systems namely, the Amlan, Ayuquitan, Hinotongan, Okoy and Cauitan rivers that provides the water requirements and irrigation of the lowland communities.
The park also contains a portion of the 133,000-hectare (330,000-acre) Negros Geothermal Reservation of the Philippine National Oil Company (now Energy Development Corporation) which supplies the energy needs for Dumaguete and southern Negros.
Is this your business?
Claiming your listing is the best way to manage and protect your business.
Claim it now!