Where to Stay in Dumaguete City
The Bethel Guest House
This 54-bedroom hotel is the largest in the city. Located along the Rizal Boulevard, it provides a spectacular view of the ocean. All rooms are fully air conditioned with hot and cold shower, cable TV connection.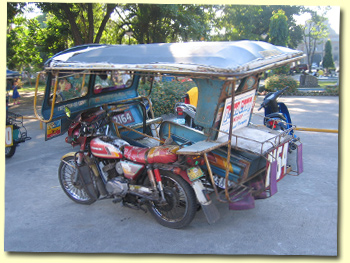 At the ground floor is a well appointed café, perfect for coffee and those little meals. They also have function rooms that can seat up to 1,000 people for special events and business seminars. Rates start at Php 1,000.00 for a single deluxe accommodation.
Hotel Palwa
This cozy 28-room Hotel is located in the heart of Dumaguete City at Dr. V. Locsin Street corner Real Street and can accomodate a total of 90 guests. The rates starting with Php 749 for single room including breakfast. The Palmyra restaurant offers delicious Philippino Cuisine and the in-house-travelagency 360 Travel and Tours takes care of your tour and flight bookings. WIFI internet is in most rooms and the restaurant available.
Florentina Homes
This unique Apartelle-Hotel is a well designed theme Hotel. Each apartment is fully furnished with two bedrooms, kitchen cable-TV, a spacious balcony and is good for 4 - 5 persons. It is a true "home away from home" and you will feel comfortable in the swiss, spanish/mediteranian or british designed apartments. The kid-friendly place is quietly located in Banayan only 5 minutes away from the Airport and Siliman University. Wireless internet is in Gabby's Bistro, the Restaurant of Florentina Homes, available. The rates for the big apartments starting with Php 2,500, special rates for long-term stays are available.
La Residencia Almar
Also situated along the Rizal Boulevard, this quaint hotel is a unique blend of Filipino-Spanish architecture. This hotel was once the home of the provincial governor. It has a total of 16 rooms whose interiors are done tastefully -- its warm colors and comfortable furniture making you feel almost immediately welcome. Amenities include fully air conditioned rooms, hot and cold shower, cable TV connection. The ground floor holds the hotel's famous Don Atilano Steakhouse and Wakagi Japanese Cuisine Restaurant for an excellent fine dining experience. At the rear of the hotel is a convenience store that has just about anything for a traveler's basic last minute needs. Rates start at Php 1,500.00, breakfast included.
Obdulias Business Inn
Obdulia's meets the demands of Dumaguete City's growing tourism and business industry. it is part of the service arm and Negros Island linkage to the philippine I slands and the rest of the world. The Hotel is located at the corner of Dumaguetes business district besides Banko De Oro in Perdices Street, corner Colon Pinili Street next to the Cathedral and Quezon Park. Shopping, Business and Entertainment is just a short walk away.
Coco Grande Hotel
A quirky Mexican inspired red brick walled hotel, Coco Grande is an upbeat 25 room hotel conveniently located at Hibbard Avenue along Silliman campus. A stone's throw away is the buzzing city central where majority of the shops, restaurants and other businesses are located. This hotel has a well equipped piano bar and lounge, a delightful coffee shop and an elegant restaurant serving a choice of Mexican, Filipino and other European cuisine. Rooms are fully air conditioned, with hot and cold shower, cable TV and telephone connections. Rates start at Php 1,100.00 for a single accommodation.
South Seas Resort Hotel
Situated at Barangay Bantayan, north of Dumaguete City, this hotel is a sprawling property with a frontal view of the ocean. From the lobby, you can see the vast expanse of Bermuda greens lined up with tall coconut trees and the blue horizon beyond it giving you instantly that distinct tropical feel. The cottages are beautifully furnished with their own screened balconies where one can lounge or perhaps have a siesta to savor the afternoon breeze. Amenities include fully air conditioned rooms with hot and cold baths, cable TV and telephone connections, large swimming pool, poolside bar and restaurant and a Filipino restaurant serving fresh seafood and other native dishes and delicacies. Rates begin at Php 1,200.00 for a single standard accommodation.
Santa Monica Beach Resort
Moving south from the city in the Barangay of Banilad is Santa Monica Beach Resort, one of the oldest and most reliable hotels in Dumaguete. It is also a popular choice for outdoor wedding receptions because of its lovely ambience and good food. It has a function hall, swimming pool, a bar, and a restaurant serving grilled seafood and other native dishes. Rooms are equipped with air conditioning, hot and cold shower, telephone and cable TV connection. Rates begin at Php 1,325.00 for a single standard accommodation.

For more information on where to stay in Dumaguete you can take a look at our Showcase and Review section.